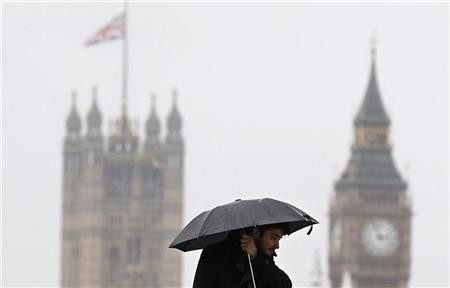 More than six in ten Britons think that the country will slide into an unprecedented triple-dip recession, according to a new survey by pollster Ipsos Mori, a reminder that pessimism is still rife in the UK's ailing economy.
Preliminary official data suggested Britain's output contracted by 0.3 percent in the final three months of 2012 as a recovery from the financial crisis continues to elude policymakers, with a global downturn - such as fiscal fears in the US and the ever-present eurozone crisis - weighing heavily on the economy.
In a separate question from the same poll, 56 percent of the 1,015 respondents predicted that both unemployment and inflation would rise in 2013, despite most forecasts suggesting both would fall.
The poll was carried out from January 12-14, before the official data showing a contraction in the fourth quarter was released.
As the UK's consumers remain staunchly pessimistic, confidence data from Germany suggests the eurozone's powerhouse economy is set to become more optimistic - despite a slowdown in economic growth expected in 2013.
Germany's economy grew by just 0.7 percent in 2012 and is only predicted to grow by 0.4 percent this year.
However, Nuremburg-based market researcher GfK said in its latest consumer confidence report for Germany that its index is expected to notch up a percentage point in February.
"The present calm situation on the financial markets has evidently caused German consumers to be more confident again at the start of 2013," said GfK in a statement.
"Despite a difficult fourth quarter, consumers are expecting a gradual revival in the economy over the course of this year."
Meanwhile, many economists expect the UK economy to scrape back to marginal growth in the first quarter, narrowly avoiding a technical recession, defined as two consecutive quarterly contractions.
Hopes of a recovery are pinned to stimulus programmes from the Bank of England and economic momentum gathering in Europe, which accounts for around half of all UK trade and is a major destination for exports.
Fiscal stimulus from the government is unlikely, with Chancellor George Osborne reaffirming his commitment to a programme of public spending cuts in order to pay down the Treasury's budget deficit, in spite of the prospect of a triple-dip recession.