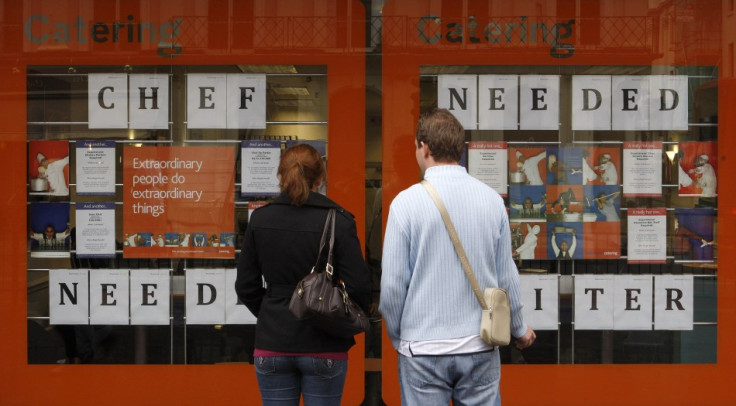 Unemployment has fallen to its lowest rate in almost a year in the quarter to June, despite the sharpening recession, as the number of full and part-time workers rose in the build-up to London 2012.
Chancellor George Osborne, beleaguered by a constant stream of negative data about the UK economy, will welcome the respite of the positive unemployment figures.
The UK unemployment rate came in at 8 percent for the three months to June, down 0.2 percent on the quarter, said the Office for National Statistics (ONS).
Employment hit its highest rate for four years with 71 percent of 16 to 64-year-olds working in a job.
Full-time workers grew by 130,000, while part-time workers increased by 71,000 - the highest since records began in 1992.
However the number of employees and self-employed people who were working part-time because they could not find a full-time job went up by 16,000 on the quarter, hitting 1.42 million, also the highest figure since 1992.
In July the claimant count fell by 7,500 on June.
Total pay, including bonuses, went up by 1.6 percent on the year, a 0.1 percent rise on the three months to May. Regular pay, which excludes bonuses, rose by 1.8 percent on a year earlier, unchanged on three months to May.
Wage growth continues to be outpaced by inflation as disposable income is eroded by a rising cost of living.
Inflation rose unexpectedly in July, hitting 2.6 percent, as a sharp rise in air fares and slowing discounting from embattled retailers pushed up the headline figure.
Britain tumbled further into recession with a -0.7 percent contraction of GDP in the second quarter, though recent revisions to sector-by-sector official data suggest this may be revised up to -0.5 percent.
With a lack of fiscal stimulus as the government pursues its singing austerity programme, slashing its departmental spending, the onus is on the private sector to pick up the slack.
However businesses have largely failed to move in to the gaps left behind by the vacating public sector. Also many firms lost contracts held with the public sector, putting an extra strain on private business.
Bank of England policymakers and the Treasury believe that a lack of availability of affordable finance is holding back business from growing and creating more jobs.
To target this perceived lending problem the Bank launched new credit easing efforts to free up finance from recession-conscious banks, wary of taking on extra risk at a time when uncertainty in the global economy, particularly the eurozone, looms overhead threatening big losses.
UK banks will be offered cheap loans by the Bank of England in direct correlation to how much affordable lending they free up for the so-called "real economy" of businesses and consumers.
Mervyn King, Bank of England governor, said it should offer a significant financial incentive to banks to lend more, but has cautioned that there are no guarantees the credit easing schemes will work.