Ukip civil war re-erupts as Nigel Farage accuses Douglas Carswell of 'residual loyalty' to Tories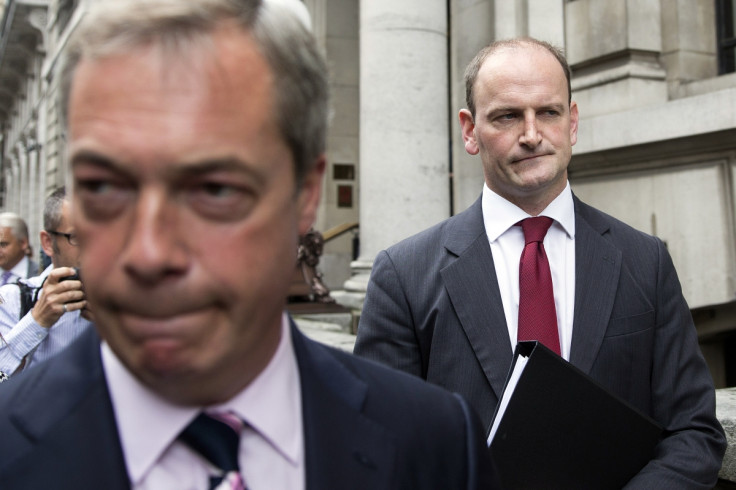 Ukip infighting has broken out again in a row over which campaign the Eurosceptic party has decided to side with ahead of the EU referendum. Nigel Farage accused Douglas Carswell, the Conservative defector and Ukip's only MP, of "residual loyalty" to his old party for not backing Arron Banks's Leave.EU organisation.
The Ukip leader made the comments just hours after he called for unity among the Eurosceptic movement. Farage also announced that his party would team up with the former donor's campaign, a move Carswell apparently was not made aware of before Farage's keynote speech. Banks had reportedly threatened that Ukip could deselect Clacton MP Carswell if he did not back the Leave.EU group.
But the former Tory hit back and apparently challenged Banks over the briefing in Doncaster on 25 September. "If someone briefs the newspapers that if I don't do what they want, despite me being elected by the people of Clacton, that I'm going to be removed – I think it's perfectly legitimate that I should say 'why did you say that'," Carswell told the Daily Telegraph.
News of the row reached Farage and the Ukip leader was critical about Carswell's supposed allegiance to his former colleagues. The row is reminiscent of the Eurosceptic's post-election infighting, which saw the resignations of party grandees such as Patrick O'Flynn and Suzanne Evans stepping down.
Carswell also had a row with party bosses over shorty money – public cash given to parties to help with administrative costs – but the argument was eventually settled. The 44-year-old is set to address the conference on 26 September and, despite allegations of "residual loyalty", he has reportedly backed the Leave.EU campaign.
© Copyright IBTimes 2023. All rights reserved.