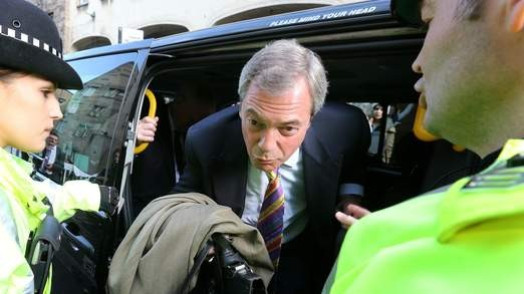 Reports that Ukip leader Nigel Farage is taking on Nick Clegg in a general election clash have been dampened - but NOT dispelled.
Farage is mulling over his biggest attention-grabbing stunt yet as Ukip ride high in polls, according on web rumours.
The former stock-broker could go head to head with Nick Clegg in 2015 and attempt to get the Deputy Prime Minister booted out of parliament.
Any push is likely to try and win voters in Sheffield Hallam who are angry about student tuition fees and Europe.
This rumour comes with a huge 'but.' According to a Ukip source who spoke to IBTimes UK, It began with a taxi driver and then got picked up on Twitter.
Combined together, these two sources speculate on possibly the most unreliable political rumour of this year.
Yet the party has refused to rule out the possibility that Farage will seek to trigger a political earthquake by turfing Clegg out in two years time.
"It's an option but it's nowhere close to being a certainty," said the source.
"It would be a fun thing to do and it's looking unlikely that Nick Clegg shall keep his 15,000 majority - that is a reasonable assumption. It would be fun, but there are probably wiser fights to have."
Launching a bid to eject Clegg from Sheffield Hallam would carry substantial risk for Farage and Ukip - whatever the size of the gains made by Ukip since 2011.
However much opprobrium Clegg gets heaped on him while Lib-Dem approval ratings stay at 10% or below, trying to overturn such a safe seat could be a case of Farage's reach exceeding his grasp.
Losing the race, however narrowly, would leave leader Farage without a seat, as he would have needed to quit Brussels to stand in Sheffield Hallam.
More feasible target seats for Farage could be the likes of Thanet or possibly Boston - near to where Farage has a home.
The Ukip source told IBTimes UK the party has "bigger fish to fry" at present - namely next year's EU elections.
"Nigel has made it very clear he's standing in the EU elections and he will decide where to stand in the UK elections after that.
"This rumour comes from a taxi driver who claims he took a senior Ukip member from our HQ to Paddington.
"There's only one person who takes that route and he's been in Germany all week."
Ukip could yet start believing they can make it 'taxi for Clegg' in 2015.