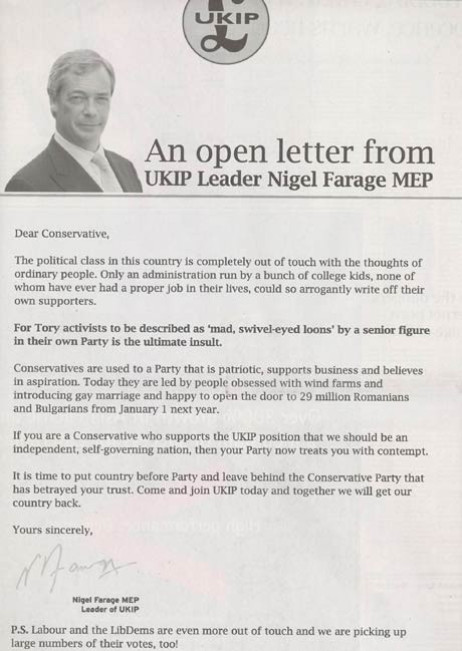 Tory voters left disenchanted by claims a senior party offical called its members "swivel-eyed loons" are deserting to Ukip in their droves following a direct appeal by Nigel Farage, the party said.
The Ukip leader took out a full-page advertisement in the Daily Telegraph on Monday 20 May, in a bid to woo voters alienated by the suggestion that senior Tories were embarrassed by the views of the party's rank-and-file membership on gay marriage and Europe.
Two more Tory councillors defected to Ukip over the weekend, with Richard Hilton and Suzanne Evans, the former leader and deputy leader of Merton Borough Council, saying the "loon" jibe marked the "final straw" from a party leadership that no longer listened to them.
That came the day after Bob Woollard, the chairman of Conservative Grassroots, and 30 constituency chairmen handed the prime minister a petition warning that his backing for gay marriage was likely to cost the Tories the next general election.
The Marriage (Same Sex Couples) Bill returns to the Commons today for two days of debate, with up to 200 Tory MPs expected to oppose the legislation. The prime minister was reduced to seeking Labour support for the bill, as Tory backbenchers draw up plans to sabotage its approval with a series of "wrecking" amendments that would in effect scupper the legislation.
Ukip reported a surge of interest in the wake of the "loons" outcry , with visitors to its website increasing more than threefold from about 6,000 daily to 19,000 on Saturday - usually the quietest day for traffic.
"We are actively reaching out to Tory voters," said party spokesman Gawain Towler.
"Take Richard and Suzanne in Merton. They'd been getting more and more fed up for some time, but the swivel-eyed loon remark was the final straw.
"The playground contempt that senior Tories show their own members has backfired horribly. The Tories are finding that if you don't water your grassroots, they dry up.
"I suspect that in coming weeks and months, the term 'loon' will come to be more a badge of honour than a mark of disrespect. If this administration is so cack-handed as to needlessly pick a fight with its own members, then the question has to be - who are the loons now?"
The defections came as a poll for YouGov showed 73% voters believe the Conservatives are a divided party, while only 10% think them united.
Meanwhile, 54% support changing the law to allow same-sex couples to marry. Those aged under 40 back the proposal by more than 3:1, while over-60s oppose it by more than 2:1, accorfing to YouGov figures.
And a poll by ComRes found support for Ukip at up to 20 per cent, comfortably ahead of the Lib Dems in third palce.
Farage appealed directly to Tory readers of the Daily Telegraph, with a full-page advertisement that stated: "For Tory activists to be described as 'mad, swivel-eyed loons by senior officials from their own party is the final insult.
"Only an administration run by a bunch of college kids, none of whom have ever had a proper job in their lives, could so arrogantly write off their own supporters."
The damaging remarks have been attributed to the Tories' co-chairman Lord Feldman - a friend of Cameron's from his Oxford University days. Lord Feldman has strongly denied the claims, and had threatened to take legal action.
Downing Street backed Feldman, issuing a "categorical" denial that anyone in Number 10 had said such a thing.
Councillors Evans and Hilton were among six Tories who last week quit the party whip on Merton Council in south-west London after disputes with fellow Conservatives.
They initially intended to serve as independents but said the loons insult had prompted them to join Ukip, which Cllr Evans said was "probably more Conservative than the Conservatives".
That came as centre-right thinktank the Bow Group warned of a "crisis of conservatism".
Hilton, previously leader of Merton Council's Tory group and chairman of Mitcham and Morden Conservatives, said: "It's not so much that I'm no longer a Conservative, but that the party is no longer Conservative. Margaret Thatcher would have been horrified by the party today."
In a statement, the two said: "We resigned on principle, in protest at the unacceptable way in which the local Conservative Party was behaving. Since we resigned only one senior politician has bothered to pick up the phone to say they admire our spine - Nigel Farage.
"When the ever-more arrogant and out of touch Tory supremos labelled hard-working grassroots activists "swivel-eyed loons" we decided enough is enough - time to join Ukip. Just like the party nationally, there are too many in the Merton Conservative Party who are toothless, ineffectual and scared stiff of challenging anything except their own colleagues.
"Trying to represent our constituents was like wading through treacle. Our biggest opposition was always from within our own party. Now we are Ukip councillors we are free from the shackles of the party whip and answerable only to our residents.
"This is our chance for a fresh start and a new approach to local politics. Better a clown than a swivel-eyed loon. We are glad to be leaving the Tory circus!"
Brian Binley, a Tory MP and member of the party's 19-strong ruling board, said the "loon" remark had offended many traditionally Tory sympathisers.
"The whole thing disturbs me enormously," he said.
"From what I have been told, comments of this kind were said. Whether they were said as a joke or not matters. If it is a joke, it underlines a state of mind. If it isn't, then it highlights an attitude to the voluntary sector in the party which is unacceptable.
"The voluntary sector is the Conservative Party. The leadership are the party's caretakers, not its proprietors. These are the very people we will need to deliver leaflets, canvass and knock on doors.
"All this sort of remark will do is make it more difficult to get back those people who voted Ukip as a protest. This is therefore a very serious matter."