One of the occasions, apart from world cup football or cricket matches, where people proudly wave the England flag is on St George's Day, celebrated on 23 April every year. Now, Nigel Farage, the UK Independence Party (Ukip) leader, has asked for a public day off to honour the saint patron of England. Though it is the national day of celebration about all things English, it is not as widely honoured as St Patrick's Day.
Gulping a beer, he pointed out how the English shouldn't feel ashamed for celebrating the patron saint's day. He wants the celebrations to be carried on proudly and in a "time-honoured fashion".
"It's about time that England was recognised on the calendar," said Farage. "Like Scotland, Wales and Northern Ireland as a country we have much to be proud of, and much that others admire. Isn't it time that the English were recognised for their own day of celebration?
"All four parts of it [United Kingdom] need to celebrate who they are themselves and together," reported the Daily Express.
St George's Day and Shakespeare's anniversary
Coinciding with William Shakespeare's anniversary of birth and death, the playwright's works will be one of the highlights at St. George's Day celebration in London's Trafalgar Square on 23 April.
There cannot be any better reason to celebrate both St George's Day and Shakespeare's 400<sup>th death anniversary together on the same day, as the saint is mentioned about 18 times in the playwright's works.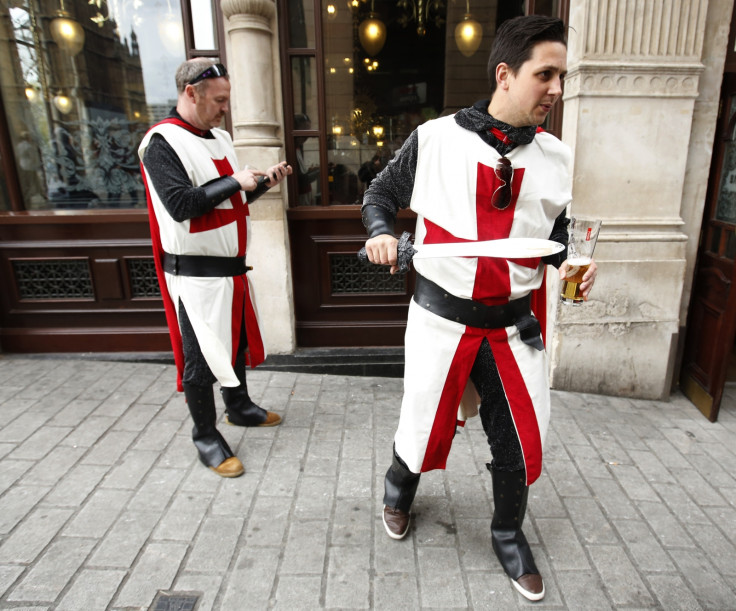 Though it is widely believed that St George slew a dragon in Libya to save a local princess, it is likely to be a popular myth as dragons with 50ft tails do not exist. But going by the accepted belief, the history says that the people of Selene in Libya converted to Christianity to show their gratitude to St George for saving their maiden. He was seen as a martyr, as the protector of soldiers.
Celebrations of St George are not limited to England, where he became a saint in 1415AD. He is recognised as the patron saint of Ethiopia, Greece, Lithuania, Palestine, Bulgaria, Canada, Portugal and Cyprus.