Ukip Spring Conference: Farage Admits Modernisation Problems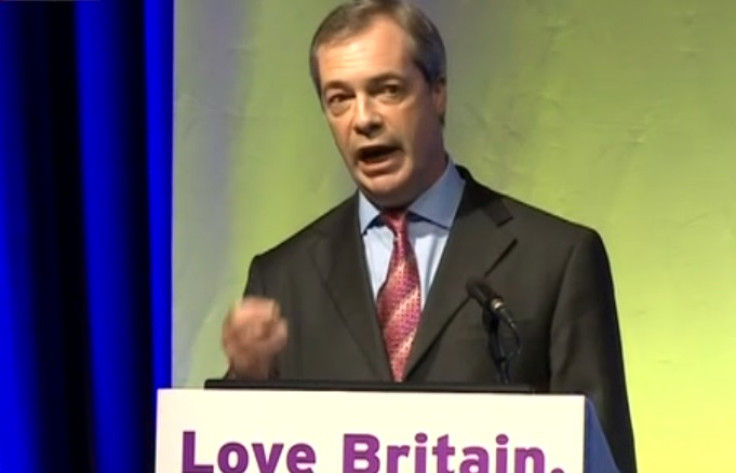 Ukip leader Nigel Farage probably said it all when he told journalists at his spring conference he was having a bit of trouble modernising his party.
After a speech in which he repeated his prediction that Ukip would win May's Euro elections and pose "the biggest threat to the political establishment in modern times", he found himself in the familiar territory of fending off questions about the behaviour of some of his members.
His answers were as disarming as usual. He said he was finding it difficult treading the line between allowing his members to be free-thinking individuals and New Labour-style control freakery.
Unfortunately, just moments before the press conference some journalists had experienced an echo of New Labour-style control freakery when party officials attempted to stop them attending a fringe meeting discussing sharia law.
They stayed anyway, after being told to "behave themselves", and later asked Farage about one of the questions raised at the fringe meeting - whether it was possible to be British and a Muslim.
People asked questions at meetings and in debates, but they did not always reflect the opinions of the people who put them forward, he replied.
He also insisted former Tory MP Neil Hamilton, of cash for questions fame, was just a backroom boy who had not been convicted of anything, although Hamilton appears to think he is "front of house" as campaigns manager.
He also fended off familiar questions about members who believed the floods were God's punishment for gay marriage and the fact he did not intend any partnership with the French National Front.
But he also gave an insight into his beliefs when he was asked whether he believed parts of Britain were a foreign land.
"I got the train the other night from Charing Cross, it was a stopper going out. We stopped at London Bridge, New Cross, Hither Green [and] it wasn't until we got past Grove Park that I could actually hear English being audibly spoken in the carriage.
"Does that make me feel slightly awkward? Yes, it does. I wonder what's really going on and I'm sure that's a view that would be reflected by three quarters of the population, perhaps even more. That does not mean we are anti-immigration," he said.
Previously he had unveiled the new Ukip slogan - "Love Britain, Vote Ukip" and was asked if he knew it was a version of what had once been the far-right BNP slogan.
"It is our slogan now, we are keeping it," Mr Farage told BBC News.
© Copyright IBTimes 2023. All rights reserved.