Ukip's prospective parliamentary candidate for Uxbridge and South Ruislip has declared class war on "Bullingdon boy" Boris Johnson.
Jack Duffin, Ukip's candidate for Uxbridge and South Ruislip, said he was excited at the potential opportunity of taking on the Mayor of London at the 2015 General Election.
But the 22-year-old slammed Johnson over his position of closing Heathrow Airport in favour of building a Thames estuary airport and claimed the Mayor of London was "more Oxbridge than Uxbridge".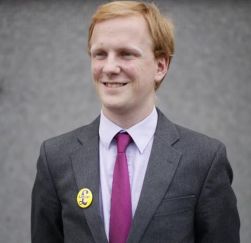 "Heathrow is going to be the [biggest issue of the campaign in Uxbridge]," Duffin told IBTimes UK. "Johnson wants to close it, which will be a disaster for the area.
"But Ukip hold the position that we still need a two-runway Heathrow, we don't want to close it and we don't want to expand it and cause more damage to the local surroundings.
"Johnson is a Bullingdon boy, he's got nothing in common with the area and he's going to use [Uxbridge] as a stepping stone on his way to becoming Prime Minister."
Duffin, who until recently worked for more than seven years in catering, made the comments after Johnson confirmed that he was going to seek selection as the Conservative Party PCC for Uxbridge and South Ruislip.
"I'm sure there will be plenty of excellent candidates, and I hope very much to make my case to the association," Johnson told the Evening Standard.
Johnson has claimed that a Thames estuary airport would sustain around 67,000 more jobs than an expanded Heathrow.
However, instead of a third runway at Heathrow or the closure of the airport, Ukip have argued for an expansion of Manston Airport in Kent.
Despite Duffin's optimism that he will be able to beat Johnson in May 2015, the Ukip press officer faces an enormous challenge.
The last Ukip candidate to stand in the constituency in 2010 only gained 1,234 votes, or 2.7% of the vote share.
In contrast, Sir John Randall – the incumbent Conservative MP – won 21,758 votes and gained a 11,216 majority.