UN envoy Robert Serry threatened at gunpoint and ends mission in Crimea.
US, UK and Ukraine have called for international observers to be sent to Ukraine.
Ukrainian vessel carrying Nato equipment heading to Odessa, US vessel heading towards Black Sea.
US Secretary of State John Kerry and Russian Foreign Minister Sergei Lavrov due to hold talks
Tense stand-off in Crimea continues without violence outbursts
Russia has test-fired an Topol RS-12M intercontinental ballistic missile
Donetsk's self-appointed pro-Russia governor Pavel Gubarev calls for secession
US President Obama spoke to German Chancellor Merkel discuss crisis in Phone conversation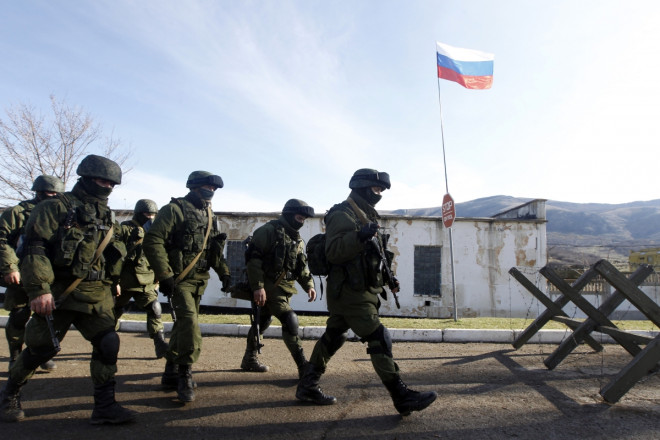 18:59 Our live coverage ends here. IBTimes UK will be back with fresh developments in the Ukraine tomorrow after a day in which a UN envoy was threatened at gunpoint and forced to flee Crimea, the Russian and Ukrainian foreign ministers met for talks at the French foreign ministry, and the US and UK called for international observers to be sent to the region.
18:49 According to AFP, both the Russian and Ukrainian foreign ministers are now at the French ministry for talks.
18:42 UN envoy Robert Serry is allegedly waiting in the business lounge at Simferopol airport. He will fly after 2100 local time. The only flight just after 2100 is to Istanbul.
18:31 Pictures continue to emanate from various Ukrainian cities such as Lviv in the West.
18:05 It is confirmed that Robert Serry is now leaving Crimea in order to de-escalate the tense situation earlier where the diplomat was forced into a coffee shop after being threatened at gunpoint by militia.
17:59 Updates continue from Simferopol where women were allegedly attacked earlier. Now protesting saying that they were not attacked.
17:28 UN envoy Robert Serry was not kidnapped but threatened at gunpoint, according to the UN Deputy Secretary-General. He is now leaving the country after being barricaded in a coffee shop by militiamen. Read the unbelievable developing story here.
16:44 Reports are coming in that UN envoy Robert Serry has been kidnapped at gunpoint in Simferopol.
16:12 A Ukrainian vessel is returning to the Black Sea port of Sevastopol after being docked in Turkey for repairs.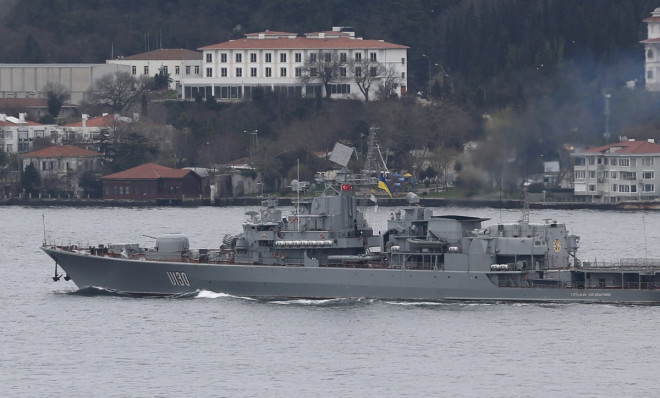 15:57 The first OSCE observers have arrived in Ukraine.
15:40 According to AP, hundreds of demonstrators waving Russian flags have stormed a government building in Donetsk in the eastern Ukraine.
The region is the home area of former Ukrainian President Viktor Yanukovych.
Many of the protesters waved Russian and other flags. Many were chanting "Russia! Russia!"
15:35 The US State Department has tweeted a photo of foreign ministers Kerry, Hague and Deshchytsia talking over the Budapest Memorandum.
15:22 Abby Martin, the RT journalist who broke rank and criticised Russia's invasion of Crimea has responded to the wave of attention that greeted her monologue in her follow-up show.
15:14 Russia's Itar-Tass news agency has quoted a source with the Russian Black Sea Fleet as saying that an Ukrainian Navy's frigate carrying Nato equipment has entered the port of Odessa, southern Ukraine, while a US destroyer is moving towards the Black Sea.
15:08 US, Ukraine and Britain said international observers should be deployed immediately in eastern Ukraine and Crimea.
A joint statement by foreign ministers for the three countries read:
The United States, United Kingdom and Ukraine agreed that direct talks between Ukraine and Russia, facilitated as needed by members of the international community, are crucial to resolving the current situation

They also agreed that international observers should be deployed immediately in Ukraine, especially in eastern Ukraine and Crimea.
14:16 The EU Council has adopted sanctions targeting 18 people who allegedly misappropriated Ukrainian state funds.
As agreed at the Foreign Affairs Council of 3 March, the Council today adopted EU sanctions focussed on the freezing and recovery of misappropriated Ukrainian state funds.
Today's decision targets 18 persons identified as responsible for such misappropriation whose assets within the European Union will be frozen. The sanctions also contain provisions facilitating the recovery of the frozen funds, once certain conditions are met.
The legal acts, including the list of persons subject to sanctions, will be published in tomorrow's EU Official Journal. The measures will initially apply for twelve months, starting tomorrow.
You can find more information here.
14:11 Yatsenyuk blamed Russia's leader for the ongoing crisis and said Putin was the one acting outside the law.
A number of military forces of the Russian Federation are deployed in Crimea. We cannot figure out the reason why Russian boots are on Ukrainian ground. And it's crystal clear that it was ordered personally by President Putin. This is Ukrainian territory and Russia wants to grab control over Crimea. But I will underline again, we will do our best in order to regain control over Ukrainian territory. The Russian military is to be back in the barracks.

What happened in Crimea is unconstitutional and resembles ... a coup supported by the Russian government and the Russian military.

The Ukrainian government is legitimate. And let me remind Mr. Putin that this government was supported by the constitutional majority of Ukrainian MPs with 371 votes. We are legitimate and we must fulfill our responsibilities. And we strongly recommend to our Russian partners to build up relations with the new Ukrainian government."
14:10 Ukraine's Prime Minister Arseniy Yatsenyuk told The Associated Press that a special task force should be established "to consider what kind of additional autonomy the Crimean Republic could get."
Yatsenyuk denied a report that Ukraine was negotiating with the US for deployment of missile defences in exchange for financial help.
"This is not true," Yatsenyuk said.
"We have no talks with the government of the United States of America on any kind of deployment of any military forces. The only negotiations we have is to get financial support, financial aid from the United States government in order to stabilize the economic situation in my country. It's absurd."
14:06 The Organisation for Security and Cooperation in Europe (OSCE) said it sent 35 unarmed military personnel to Ukraine as observers in response to a request from Kiev.
13:59 Swedish foreign minister Carl Bildt, in Kiev, tweeted:
13:47 Journalists continue to report Russian soldiers in and around Sevastopol, contradicting Putin's claims that there are no Russian forces in Crimea.
13:41 This is the scene in Donetsk right now where a pro-Ukraine rally is taking place.
13:26 US Secretary of State John Kerry, UK Foreign Secretary William Hague and Ukraine's Interim President Oleksandr Turchynov are meeting in Kiev.
13:15 Polish foreign minister Radoslaw Sikorski has met with Chinese foreign minister Wang Yi who agrees that Ukraine's territory should be respected.
13:05 UK Prime Minister David Cameron has given his strongest indication yet that the forthcoming G8 meeting, held in Russia, will be postponed in a continuing stand-off over Moscow's intervention in Ukraine.
Cameron says it is "hard to see" how the meeting of the group can proceed ahead in Sochi in June, and insists "nothing should be off the table" in terms of sanctions.
12:57 Footage of women protesters being pushed and having their signs ripped by pro-Russian men today in Simferopol has emerged.
12:50 Russian snipers remain in Sevastopol harbour.
12:29 Ukraine's premier told the Associated Press that Crimea must remain in Ukraine, but may get more autonomy.
12:25 The EU has published the remarks by President Barroso on Ukraine, detailing a €11bn aid package to Kiev.
Here is the full text:
Good afternoon ladies and gentlemen,
The Commission met this morning to discuss the situation in Ukraine.
The events of the last days have shocked us all and reminded us that principles that we cherish, like peace, cannot be taken for granted. It also reminds us how the outdated logic of the balance of powers is dangerous and wrong and we need to replace it with a logic of cooperation and dialogue, in full respect of international law.
Our message has always been, and remains, that it is for the Ukrainian people to decide on their own future. This means their freedom and security must be guaranteed, and that the territorial integrity has to be respected.
Our most immediate priority is to contribute to a peaceful solution to the current crisis. We expect that recent measures to de-escalate the situation will be followed through.
The situation in Crimea needs to be handled through political dialogue in the framework of the Ukrainian constitution and respecting the rights of all Ukrainian citizens and communities. In this respect, I welcome the direct dialogue established between Moscow and Kiev, and I expect no one will oppose a deployment of international observers to Crimea.
In parallel, the international community should mobilise to help Ukraine stabilise its economic and financial situation, which will in turn also contribute to political and social peace. The Commission currently has a mission on the ground in Ukraine to conduct a needs assessment.
Today, the European Commission has identified a package of support to Ukraine. This is our contribution to tomorrow's meeting of Heads of State and Government. The package combined could bring an overall support of at least 11 billion euros over the next couple of years, from the European Union budget and European Union based international financial institutions. It is a package designed to assist a committed, inclusive and reforms oriented Ukrainian Government. Importantly, we will have the opportunity to meet and discuss with Prime Minister Yatseniuk tomorrow, and of course I am very pleased about this.
Our package consists of immediate short and medium term measures offering trade, economic, technical and financial assistance to Ukraine.
It offers €1.6 billion in loans under macro-financial assistance.
It offers €1.4 billion in grants, of which €600 million can be disbursed in the next two years.
It adds another €3 billion from the European Investment Bank from 2014-2016 and it proposes to create a trust fund in which the European Union budget money and bilateral money from Member States can be pooled.
We will work with the European Bank for Reconstruction and Development, to which the European Union with its Member States is a majority shareholder, to liberate a further €5 billion.
We will also mobilise money (€250 million) from the Neighbourhood Investment Facility to leverage €3.5 billion of loans from bankable investment projects.
And to coordinate the aid effort by the international community and the International Financial Institutions, we propose to create a special donor coordination mechanism. The European Union is ready to host in Brussels a meeting with interested partners for this purpose.
Going beyond aid and moving to trade, the European Commission is ready to propose to the Council and the European Parliament to give an early unilateral application of the goods import provisions of the Deep and Comprehensive Free Trade Area in the Association agreement, which we stand ready to sign, meaning millions of valuable savings on import duties.
There are a number of other measures through which we are ready to support Ukraine. Let me just highlight one of them, energy, where we are looking in the short term at the gas transmission network to ensure that reverse flows with the European Union are fully operational.
You will find all details in the document that is going to be distributed to you very soon and that presents in a comprehensive manner all this different strands of support to Ukraine.
This is a package that needs to be complemented by further efforts of our Member States, of other international financial institutions like the IMF and the World Bank and all partners that want to contribute.
The situation in Ukraine is a test of our capability and resolve to stabilise our neighbourhood and to provide new opportunities for many, not just a few. We need to be up to this challenge. I believe we are going to be up to this very important challenge for Ukraine and for Europe as a whole.
Thank you.
12:23 Russian president Vladimir Putin remains among the nominees for the 2014 Nobel Peace Prize despite the ongoing conflict in Ukraine.
Putin's name was first put forward for the prestigious prize in October by an advocacy group, citing his role in preventing a US air raid on the Syrian regime following a chemical attack on its citizens last August.
12:22 A classic Seinfeld clip that describes Ukraine as "weak" and "feeble" has seen a surge in popularity since the unfolding crisis escalated.
The clip features characters George Costanza and Cosmo Kramer playing a game of Risk on New York's subway when Kramer reveals his intention to "invade" Ukraine.
Here you find the related video and some more info.
12:18 Operations on the International Space Station between Russia and the United States will continue unaffected by Russia's involvement with Ukraine, according to Nasa chief Charlie Bolden.
"I think people lose track of the fact that we have occupied the International Space Station now for 13 consecutive years uninterrupted, and that has been through multiple international crises," Bolden said.
"I don't think it's an insignificant fact that we're starting to see a number of people with the idea that the International Space Station be nominated for the Nobel Peace Prize."
Read more here: Russia and US Still Friends in Space Despite Ukraine Crisis, Says Nasa
11:51 Kerry said it is regrettable that Russia didn't attend for a meeting of the so-called Budapest agreement group held this morning in Paris.
11:44 Here are a few pictures from Donetsk, eastern Ukraine, where police re-took control of the local government building after it was stormed by pro-Russian demonstrators over the weekend.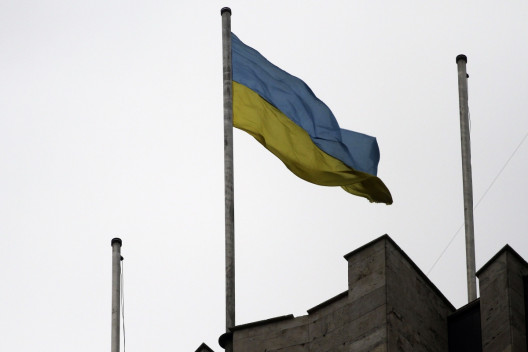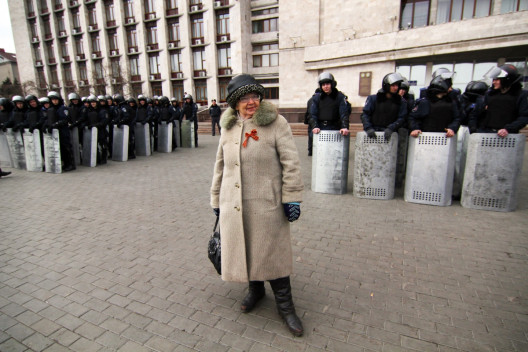 11:30 The President of the EU Commission, Jose Barroso, has tweeted some details of the aid package:
11:28 A top official said the EU will provide Ukraine $15 billion as part of an aid package in loans and grants, AP reports.
11:25 Speaking at a fundraiser in California, Hillary Clinton said that tactics implemented by Russia in Crimea are reminiscent of those used by Nazi Germany before World War II.
Read more here: Ukraine Crimea Crisis: Hillary Clinton Compares Russian President Vladimir Putin to Adolf Hitler
11:16 William Hague tweeted:
11:05 Here is a photo of US Secretary of State John Kerry hosting the Budapest Memorandum Ministerial meeting with Ukrainian Foreign Minister Andrii Deshchytsia and British Foreign Secretary William Hague at the U.S. Ambassador's Residence in Paris.
The Budapest Memorandum is a treaty concerning the nuclear disarmament of Ukraine signed in December 1994 by Ukraine, Russia, the US, and Britain.
The signatories agreed to respect Ukraine's independence and sovereignty, among other things.
11:01 UK foreign secretary William Hague said there will be costs for Russia if the Kremlin doesn't deescalate tensions in Ukraine.
Hague tweeted:
9:35 Lavrov confirms he will meet Kerry in Paris.
9:34 "These are forces of self-defence created by residents of Crimea," Lavrov says about armed troops that have taken over key locations in the southern Ukrainian region.
He says they do not get any order from Russia.
9:33 Lavrov says Ukraine is Russia's top priority.
9:32 Russian Foreign Minister Sergei Lavrov is giving a news briefing with his Spanish counterpart Jose Manuel Garcia-Margallo, in Madrid.
9:16 Russian lawmakers plan to implement retaliatory sanctions targeting assets and bank accounts of US and EU companies if the West imposes economic measures against Russia, le Figaro newspaper reported.
9:05 A source at the Russian Foreign Ministry has confirmed that Foreign Minister Sergei Lavrov and US Secretary of State John Kerry will meet today.
"Sergei Lavrov and John Kerry will meet in Paris today to discuss the situation in Ukraine," the source told Itar-Tass news agency.
8:54 Ukrainian police say they are evacuating the regional government building in Donetsk that was occupied by protesters, Reuters reports.
Other reports suggest the Ukrainian flag has replaced the Russian one that was flown atop the building as it was stormed on Saturday.
8:48 British foreign secretary William Hague tweeted: