Ukraine Crisis: Interim President Fears Crimea Heading for Split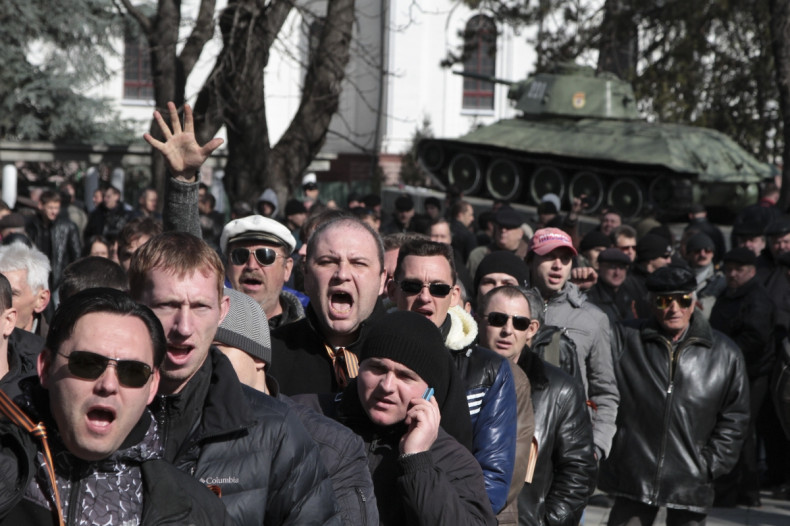 Ukraine's interim head of state Oleksandr Turchinov has expressed concerns over signs of separatism in Russian-speaking regions, especially in Crimea, even as the fallout from months-long political crisis and subsequent regime change continued to linger across the country.
In his address to the parliament, Turchinov admitted that separatism was a "serious threat" to the country, where the situation remained volatile following the dramatic exit of Viktor Yanukovich.
Several regions in southern and eastern Ukraine, predominantly Russian-speaking, have witnessed unrest over the actions of the interim government. Calls for secession from Ukraine have also been made from across these areas.
Thousands of pro-Russian protesters gathered outside the city hall in Crimea, where calls for greater autonomy were louder than in any other region, chanting slogans such as "A Russian mayor for a Russian town".
They have been pressing to install local businessman Alexei Chaliy, who has close ties with Moscow, as the city's mayor.
Anti-Kiev sentiments are rife in Crimea, a Black Sea peninsula with nearly two million people. The majority of the population in Crimea are ethnic Russians.
'We won't stay aside'
"Putin and the Black Sea fleet should come. We are not scared of bloodshed," Alexandra, who declined to give her second name, told Russian news outlet RIA Novosti.
Many have also removed Ukrainian flags from government buildings and replaced them with Russian ones in Sevastopol, a warm water Crimean port on the Black Sea.
Movements of Russian troops are also being speculated in Crimea, further raising fears that Moscow could intervene militarily, eventually breaking up its neighbour.
However, Russian Foreign Minister Sergei Lavrov has insisted that his country will uphold its "policy of non-intervention" in Ukrainian affairs.
Shortly after Lavrov's remarks, senior Russian lawmaker Leonid Slutsky, deputy chairman of Russian Duma's Foreign Affairs Committee, addressed a crowd in Crimean capital Simferopol. He said: "If lives and health of our compatriots are in danger, we won't stay aside."
There are also reports hinting that Kiev's interim administration might be sending armed forces from western Ukraine to Crimea to contain the tense situation.