Ukraine Crisis: Russia Deploys Ships and Troops in Crimea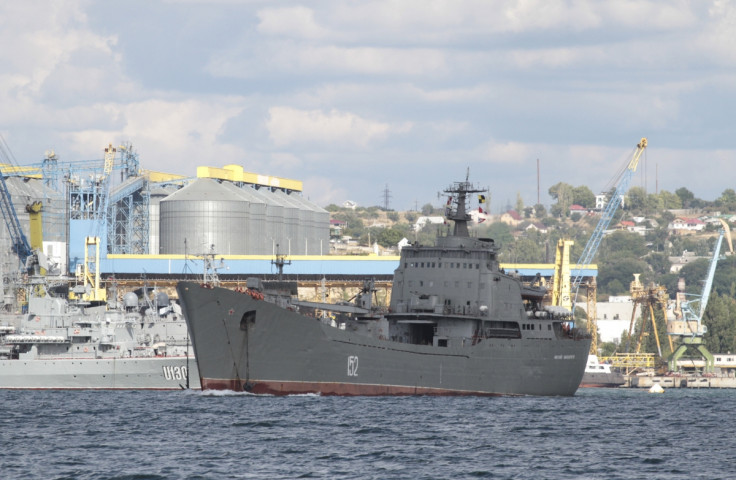 Russia is believed to be deploying military ships carrying troops in the disputed autonomous Crimea region of Ukraine, as Moscow continues to refuse to recognise the interim administration which has taken control of Kiev.
Reports suggest the movement of Russia's large landing ship Nikolai Filchenkov, with at least 200 soldiers onboard, at the Russian Black Sea Fleet's base at Sevastopol.
The ship is said to be accompanied by at least four other vessels with an unknown number of Special Forces Troops onboard, sailing from the Russian port of Anapa to the Crimean/Ukrainian Sevastopol.
Oleh Tyahnybok, leader of the nationalist Ukrainian Svoboda, said he has proof of the movement in the form of a text message.
Citing security sources in Crimea, Tyahnybok said: "I can show sms. Today at 12:00 foreseen arrival of Temryuk port in the Russian Federation in the city of Sevastopol large landing ship 'Nikolai Fil'chenkov' from the Black Sea Fleet of the Russian Federation.
"It [the ship] takes about 200 armed soldiers [and] 328 separate battalion of Marines, who are based in Temryuk and 10 BTR-80 [armoured personnel carriers]."
Russia's base in Sevastopol is already believed to shelter about 26,000 troops.
The Crimea region lies on the northern coast of the Black Sea. Russia's massive Black Sea Fleet is stationed at Sevastopol and 60% of the region's population are ethnic Russians.
Moscow earlier revealed that it would be ready to go for war over the Crimea region in order to protect the large population and army installations.
"If Ukraine breaks apart, it will trigger a war. They will lose Crimea first [because] we will go in and protect [it], just as we did in Georgia," an unidentified Russian official told the Financial Times.
Analysts have already pointed to the possibility of a repetition of the 2008 Georgia conflict when Russian troops and tanks invaded after the Georgian government launched an attack on the separatist region of South Ossetia. As many as 150 people died in the Russian action.
The US earlier issued a stern warning to Russia to keep out of Ukraine and the remarks were rebuffed by Moscow.
© Copyright IBTimes 2023. All rights reserved.