Ukraine Crisis: Russia Bolsters ongoing Military Drill with 80 Combat Helicopters amid Crimea Tensions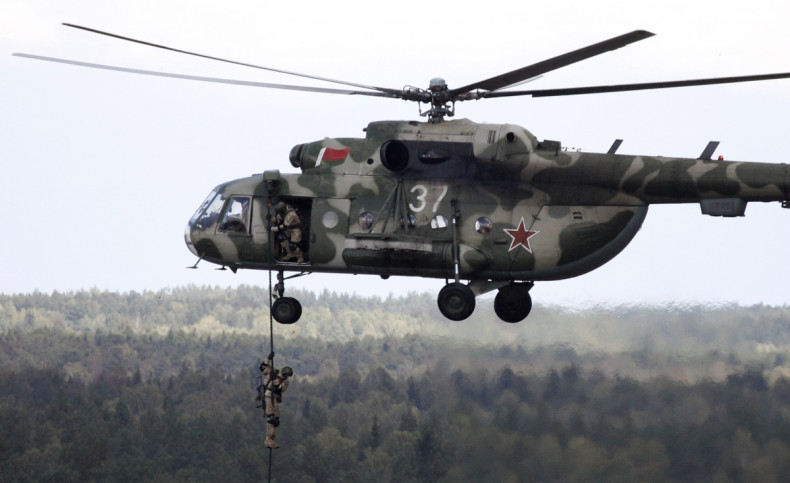 Russia is bolstering the ongoing army drill in the Western Military district which began after a surprise order by President Vladimir Putin with 80 more combat helicopters amid rising tensions in Ukraine's Crimea region.
Mil Mi-24 and Mi-8 helicopters are being redeployed from their bases to the emergency airfields, flying up to 500kms.
The aircraft are moving in squadrons in combat formations. The pilots are given instructions and the list of assignments just a few minutes before the actual takeoff.
"The crews of army aviation helicopters are monitoring officers' radio communication during the marches in order to assess Land Forces units' compliance with the rules for radio communication. Apart from that, specialists in charge of monitoring compliance with the rules for frequencies uses are attempting to track down any possible airwave trespassers who are using frequencies outside of the permitted range," a Russian defence ministry spokesperson told Interfax-AVN.
The spokesperson added: "According to instructions issued by officers of the Russian Armed Forces General Staff, pilots are informed of their mission tasks, destination and other duties immediately ahead of their departure."
The unscheduled four-day combat readiness test which started on 26 February already involves 150,000 troops from the Western and Central Military Districts, 90 aircraft, more than 120 helicopters and 80 naval vessels.
The Western District covers most of western Russia and borders Ukraine.
Although Russia has maintained the exercises are unrelated to the ongoing Ukraine crisis, it is widely perceived as military muscle-flexing by Moscow especially when the Russian-dominated Crimea is turning into the epicentre of the crisis.
The Russian army has officially denied any hand in the latest siege, but pro-Russian armed men have reportedly stormed Crimean airports and a few other places, prompting strong condemnation from Ukraine's interim officials over the "armed invasion".
The US has also warned Russia against the military drill. The White House said: "We expect other nations to do the same. And so we are closely watching Russia's military exercises along the Ukrainian border ... We urge them not to take any steps that could be misinterpreted or lead to miscalculation during a very delicate time."