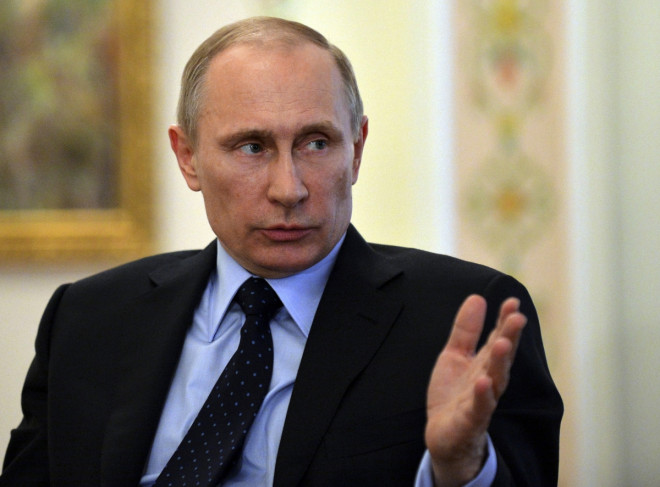 In a surprisingly undiplomatic move, the US State Department has published a list of "fictions" and "false truths" that Russian President Vladimir Putin has promoted to justify Russian military involvement in Crimea.
The publication of the list came just hours after US Secretary of State John Kerry held talks with Russian foreign minister Sergey Lavrov in Paris.
"The world has not seen such startling Russian fiction since Dostoyevsky wrote, 'The formula 'two plus two equals five' is not without its attractions,'" said the statement, entitled "President Putin's Fiction: 10 False Claims About Ukraine".
The statement went on to list Putin's 10 'untruths', throwing a wave of evidence at the Russian premier's statements regarding the crisis in Ukraine.
The list accuses Putin of distorting claims about Russia's involvement in Crimea, as well as his protestations that a "humanitarian crisis" is unfolding on the peninsula, and that the Ukrainian parliament – the Rada – is under the influence of extremists.
"Strong evidence suggests that members of Russian security services are at the heart of the highly organised anti-Ukraine forces in Crimea," the statement says in its first retort of Putin's claims.
"Outside Russian press and Russian state television, there are no credible reports of any ethnic Russians being under threat."
Susan Rice, US President Barack Obama's national security adviser, demonstrated White House support for the publication by tweeting the article to her 362,000 Twitter followers.
Vladimir Putin's 10 statements that the US State Department claim he has distorted:
Russian forces in Crimea are only acting to protect Russian military assets. It is "citizens' defense groups," not Russian forces, who have seized infrastructure and military facilities in Crimea.
Russia's actions fall within the scope of the 1997 Friendship Treaty between Ukraine and the Russian Federation.
The opposition failed to implement the February 21 agreement with former Ukrainian President Viktor Yanukovych.
Ukraine's government is illegitimate. Yanukovych is still the legitimate leader of Ukraine.
There is a humanitarian crisis and hundreds of thousands are fleeing Ukraine to Russia and seeking asylum.
Ethnic Russians are under threat.
Russian bases are under threat.
There have been mass attacks on churches and synagogues in southern and eastern Ukraine.
Kyiv is trying to destabilise Crimea.
The Rada is under the influence of extremists or terrorists.
The publication of the list follows the threatening of a UN envoy in Sevastopol, leading him to flee Crimea.
Follow our live blog on developments in Ukraine here.