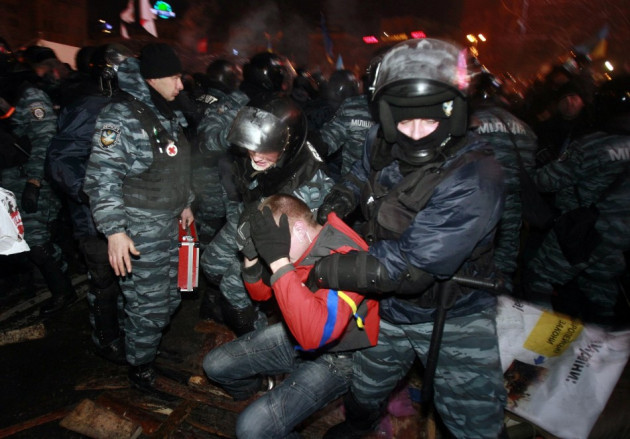 Thousands of black-helmeted Ukrainian riot police personnel have moved in on the protest camps in Kiev, sparking clashes with anti-government protesters.
The Ukrainian special forces surrounded the camp in Independence Square tearing down barricades, in what has been dubbed as a move to clear roads and ease traffic.
"We are not talking about dispersing the protest camp on Maidan [Independence Square], we are only talking about executing the court order on clearing main roads," reports the UNIAN news agency, citing Kiev police.
For the past 10 days, demonstrators have been protesting against the government's decision to withdraw from talks with the EU over a free trade pact, erecting camps at the centre of the snowbound capital.
There have been no signs of violence so far during the standoff, apart from minor clashes.
Ukrainian singer Ruslana, who was also among the protesters, appealed in a loud hailer "Do not hurt us!", while priests took the centre-stage urging police to avoid violence. Some protesters were also singing the Ukrainian national anthem.
As soon as the police removed the barricades and tents, they were closely followed by city cleaners clearing out the roads.
However, minor clashes broke out only when police attempted to arrest some of the active protesters in the Square, suggest local reports.
Protesters are determined to carry on with the demonstration, with Opposition leader Arseniy Yatsenyuk calling for a million-march against the government.
The latest move by President Viktor Yanukovych's administration has come a day after he held talks with EU foreign policy chief Catherine Aston.
In Kiev, Ashton visited the protest sites, signalling support to the protesters. She was given a rousing welcome by the demonstrators.
"I was among you on Maidan (the name for Independence Square) in the evening and was impressed by determination of Ukrainians demonstrating for [a] European perspective of the country," said Aston following the police action.
"Some hours later I observed with sadness that police used force to remove peaceful people from the centre of Kiev. The authorities didn't need to act under the coverage of night to engage with the society by using police."
US Secretary of State John Kerry has also condemned the latest police action.
In a statement urging the police to show restraint, Kerry said: "The United States expresses its disgust with the decision of Ukrainian authorities to meet the peaceful protest in Kiev's Maidan Square with riot police, bulldozers, and batons, rather than with respect for democratic rights and human dignity. This response is neither acceptable nor does it befit a democracy."