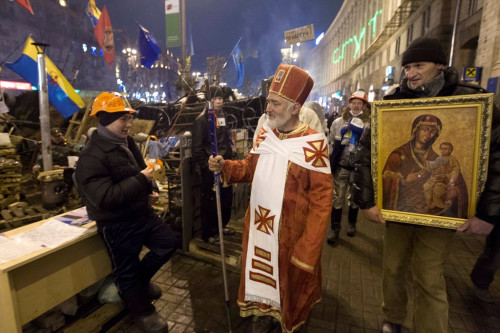 Ukraine could have picked up at least €19bn (£16b, $26bn) in European Union loans and grants over a seven-year period had it signed a trade and cooperation agreement with the 27-member bloc.
The EU, which has avoided getting into a bidding war with Russia over Ukraine, had made public its intention to offer Ukraine a €610m loan if it agreed to receive help from the International Monetary Fund (IMF).
However, internal EU estimates shown to Reuters pegged the total EU assistance to Ukraine, between 2014 and 2020, at around €19bn, provided Kiev signed the trade pact with the EU and reached an arrangement with the IMF.
In addition, an unnamed EU source told the news agency that €19bn was a conservative number and that it had never been mentioned to Ukraine officials during discussions.
Ukraine's Prime Minister Mykola Azarov had sought €20bn in aid from the EU to make up for the cost of signing the EU deal. The EU contests Ukraine's estimate of how much it would cost to modify its economy for the trade accord.
The EU was prepared to guide Ukraine on reaching an agreement with the IMF if it had signed the accord.
Post an agreement, the EU would have agreed to a "fast-track disbursement" of an initial package of financial aid to Ukraine. It would have also started work on a second package of financial aid.
The EU would have also arranged an investment conference bringing together investors and the private sector to invest in Ukraine.
The EU has said that the planned trade agreement with Ukraine remains on the table and Ukraine's first deputy prime minister Serhiy Arbuzov said last week Kiev was ready to sign it.
However, EU officials do not expect any action soon.
"We will never be in the business of window-dressing or competition to propose more money because our offer is not about money," the EU source said.
Russian Bailout
Thousands of Ukrainian protesters took to the streets after Ukraine president Viktor Yanukovich reached a deal with Russian president Vladimir Putin on 17 December.
Putin agreed to buy billions of dollars worth of Ukrainian government bonds, and to reduce the price of Russian gas exports.
Pro-EU Ukrainian protesters demand to know what Yanukovich has promised Russia, in return for the $15bn bailout. Yanokovich has been accused of selling the country to Russia: opposition leader Vitali Klitschko told pro-EU protesters that Yanukovych was betraying Ukraine's independence.
In November, the former Soviet bloc nation dumped plans to sign the trade agreement with Brussels at the last moment in favour of closer ties with Russia, triggering huge demonstrations in the capital Kiev.