Ukraine Opposition Leader Injured in Kiev Clashes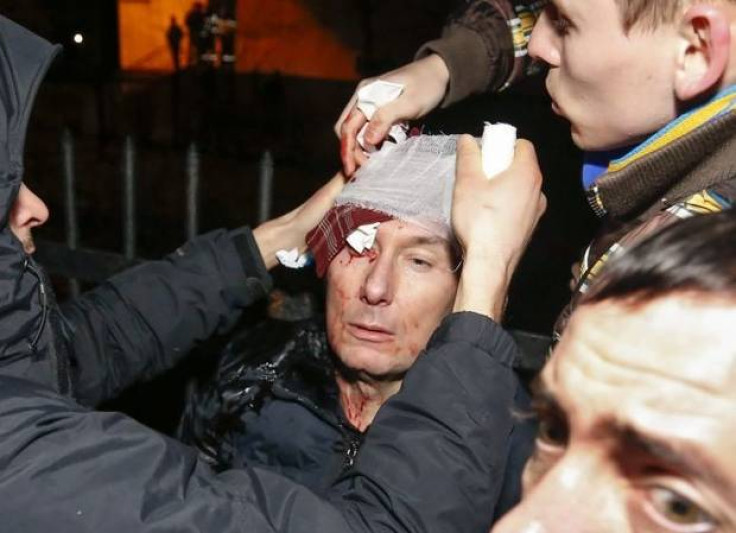 Ukraine's opposition leader Yury Lutsenko has been injured in clashes with police in Kiev, after anti-government protests again erupted into violence.
Video footage showed Lutsenko, a former interior minister, lying unconscious on the ground with a bleeding head, after reportedly being beaten by a riot officer when he tried to intervene in a confrontation between police and protesters.
"He was hit several times over the head with a club before he fell," his spokeswoman told the Los Angeles Times,
More than 10 other protesters were hospitalised in the clashes outside a courthouse in the Ukrainian capital. The interior ministry said that 20 police officers were also injured.
Despite there being considerably fewer protesters now than the 500,000 who took to the streets early in December, those who remain have formed an encampment around several government buildings in the centre of Kiev.
The protesters oppose president Victor Yanukovich's decision not to form closer ties with the European Union, and instead accept a $20 billion bailout from Russia to help the country's ailing economy.
Yesterday's protest erupted when three activists were jailed for plotting to blow up a statue of Lenin in the nearby town of Borispol in 2011.
Over the past few days, Lenin statues have been toppled or damaged in other Ukrainian cities, and in December a statue of the Bolshevik leader in Kiev was torn down.
President Yanukovich has provided no indication that he will offer concessions to the protesters.
© Copyright IBTimes 2023. All rights reserved.