Ukraine Protests: Israeli Ex-Officer 'Leads Militant Group', Claims Iran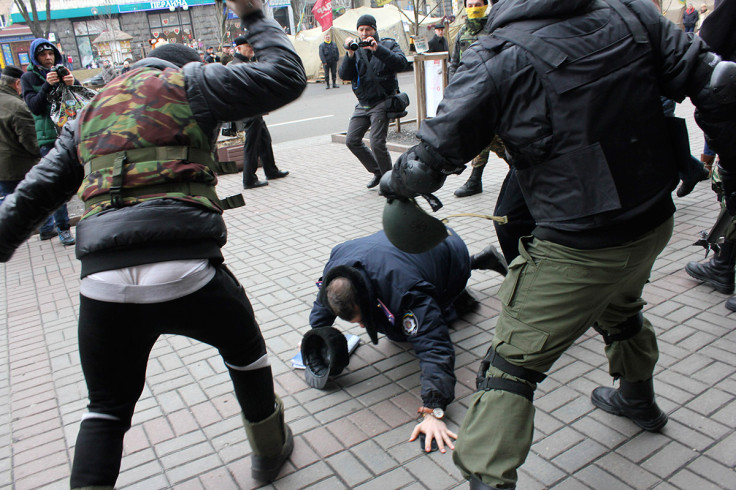 A former Israeli army officer is playing a leading role in the anti-government protests in Ukraine, PressTV has reported.
According to unverified claims by the Iranian news channel, which was set up by the fiercely anti-Zionist Islamic regime, the unnamed Israeli was commanding a group of 20 Ukrainian militants while four other Israelis, who had also previously served in the army, were said to have taken part in opposition rallies in Ukraine's capital of Kiev.
They were born in Ukraine but migrated to Israel and joined its armed forces before returning to the Europe for the demonstrations, the report continued.
Estimates of the Jewish population of Ukraine range from 200,000-300,000. Upto 340,000 Ukrainian Jews have moved to Israel since the early 1990s, part of the huge post-Soviet immigration wave.
Despite calls by Jewish leaders to remain neutral, young Jews have been on the frontline of protests against Ukrainian president Viktor Yanukovich, the Jerusalem Post wrote in December.
Alexandra Oleynikova, a young Jewish activist involved in organising Limmud conferences, told the Post that while some Jews stayed away out of fear, other young Ukrainian Jews who work for international organisations such as JDC, Hillel and Limmud, were "really active" in offering support as well as "organising the barricades".
According to the Jewish Telegraphic Agency (JTA): "A number of young Jews are involved in the protests, which have drawn together a diverse coalition of liberal youth and opposition party leaders, including members of the ultranationalist Svoboda (Freedom) party, whose leader, Oleh Tyahnybok, has freely trafficked anti-Semitic stereotypes".
Elizabet Noga, a Jewish 23-year-old, who immigrated to Israel 18 months ago, told Haaretz: "My parents have very different views from me about what's going on. They say the protestors are fascists and anti-Semites because that's how they view things being so close to Russia. But I have lots of friends who are taking part in the protests and what's driving them is not anti-Semitism but the desire for a better life."
According to reports, Ihor Kolomoysky, who has joint Israeli and Ukrainian citzenship, and Hennadiy Boholyubov, owners of Privat Group - with media, energy and banking operations - is believed to have switched sides and supported Yanukovych's opposition.
The Ukranian protests were sparked after Yanukovych spurned a trade and investment deal with EU and sought financial help through Russia.
Vladimir Putin agreed to buy billions of dollars worth of Ukrainian government bonds and to reduce the price of gas exports.
Prime Minister Mykola Azarov offered his resignation in an attempt to end the protests gripping cities across the country, while parliament repealed the controversial anti-protests laws that had caused unrest in the country.
The Ukrainian parliament also passed a law providing amnesty to protesters detained during recent unrest.
However, Azarov's resignation and the elimination of the anti-protest laws met only two of the protesters' demands.
Demonstrators are also calling for Yanukovich to step down and for Ukraine to sign an EU deal. The release of political prisoners, including former prime minister Yulia Tymoshenko, has also been requested.
A ceasefire has been agreed, after prolonged unrest across the country, but it seems fragile in the face of increased fear of civil war.
© Copyright IBTimes 2023. All rights reserved.