Fresh clashes have led to the death of at least 25 people while more than 200 have been severely injured during the bloodiest day of protests in Ukraine.
Police in the Ukrainian capital Kiev have launched a fresh attack on protesters, while President Viktor Yanukovych has blamed the opposition forces for the bloodshed.
According to activists, the violence was fuelled by the authorities.
Police launched their latest assault on Independence Square, also known as the Maidan, where several tents were set ablaze.
Police had warned women and children to leave the area immediately and used loudspeakers to announce they were launching an "anti-terrorist" operation.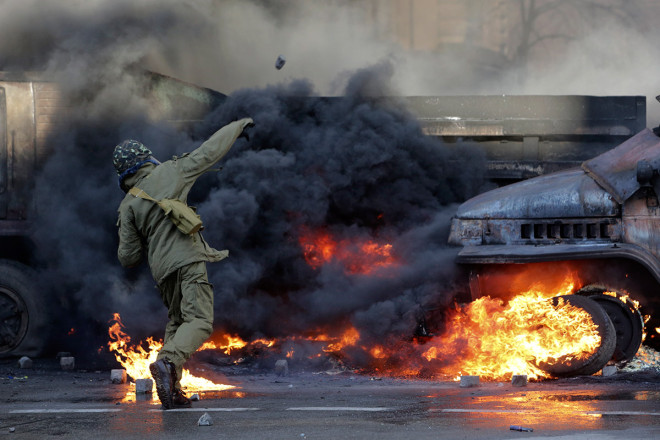 The protest was sparked following President Viktor Yanukovich's rejection of a trade and investment deal with the European Union last November. The demonstrations increased after Yanukovichreached a deal with his Russian counterpart Vladimir Putin.
While Russian Foreign Minister Sergei Lavrov blamed outside influences for fuelling the violence, Ukrainian politician Arseniy Yatsenyuk argued that the shift in tactics has been caused by Yanukovych's refusal to listen to the protesters' demands.
Prime Minister Mykola Azarov offered his resignation in an attempt to end the protests gripping cities across the country, while the parliament repealed controversial anti-protests laws that had caused unrest in the country.
The Ukrainian parliament also passed a law providing amnesty to protesters detained during recent unrest.
However, Azarov's resignation and the elimination of the anti-protest laws met only two of the protesters' demands.
The demonstrators also want Yanukovich to sign a deal with EU and to step down.