Thousands of Ukrainian far-right supporters have rallied in the Kiev's Independence Square calling for a referendum that would impeach the country's president Petro Poroshenko.
The peaceful rally held by the Right Sector movement saw thousands of people converge in the centre of Kiev on 21 July, waving Right Sector and Ukrainian flags and chanting "Glory to Ukraine".
The demonstration comes after a fatal gun battle in the town of Mukacheve in western Ukraine on 11 July, where armed men who claimed to be members of Right Sector faced off with police forces, leading to the killing of at least two people.
The group has frequently locked horns with Ukrainian authorities over government policy and is now calling for the resignation of ministers and for a referendum impeaching President Poroshenko.
Right Sector leader Dmytro Yarosh said at the rally that the group was calling for a vote of no confidence to go through in the Ukrainian parliament.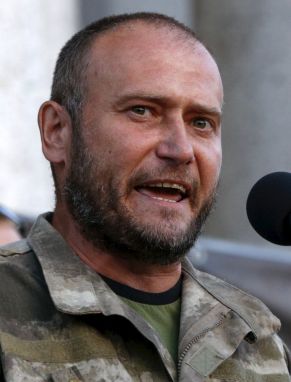 "Right Sector is initiating a nationwide Ukrainian referendum to answer several questions. First, a motion of no-confidence in government; second, we demand for the Russian war against Ukraine to finally be recognised as a war, and not as an antiterrorist operation. Our Ukrainian people must have their word here," he said.
"Three, we demand a complete blockade of the occupied territories. Four, we ask our people to support the legalisation of the Ukrainian volunteers corps and other volunteer units according to the law," Yarosh added.
Right Sector played a prominent role in protests that toppled Moscow-backed President Viktor Yanukovich a year ago. Members of the group's volunteer corps have been battling alongside Ukrainian forces in the east of the country against pro-Russian separatists.
But the recent moves by Right Sector against President Poroshenko and his government could threaten to open up a new front in Kiev's battle to bring order to Ukraine. Close to bankruptcy and fearful of renewed conflict with pro-Russian separatists in the east, the government has been criticised for being slow to reform the country's legal system, which is still described as favouring the rich and powerful.