Ukraine throws shade at Russia with a 'Simpsons' GIF in bizarre Twitter war
The strange but heated Twitter spat featured historical facts, emojis and even GIFs of Benedict Cumberbatch.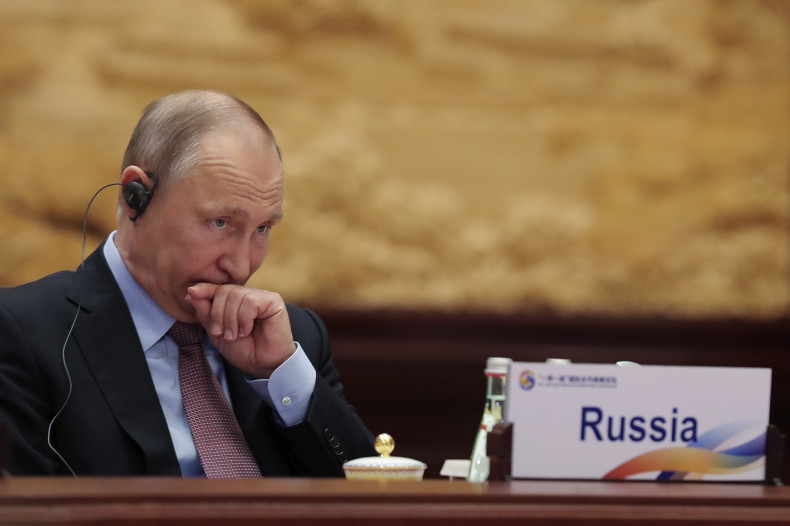 Mounting tensions and hostility between Russia and Ukraine seem to have boiled over into a new, unexpected platform, complete with GIFs from The Simpsons.
On Tuesday (30 May), the official Twitter account for the country of Ukraine took on the official account of Russia, which is run by the Russian Ministry of Foreign Affairs, in a strange but heated Twitter spat that featured historical facts, emojis and even GIFs.
The Twitter war stemmed from Russian President Vladimir Putin's reference to the 11th century queen of France Anna Yaroslavna as "Russian Ani" during a meeting with French President Emmanuel Macron in Versailles on Monday.
The daughter of Yaraslav the Wise, the Grand Prince of Kiev, Queen Anne was born in 1036 in Kievan Rus - the territory surrounding what is now the capital of Ukraine. She later went on to become the queen of France when she married King Henry I Capet in 1051.
Putin's comments, however, were slammed by critics as an attempt to blur the lines between Russian and Ukrainian history and appropriate Anna of Kiev as "Russian."
"My dear French friends, Russian president Putin tried to mislead you today," Dmytro Shymkiv, deputy head of the Presidential Administration of Ukraine wrote in a Facebook post. "Moscow did not even exist by that time."
Ukraine's official Twitter account sought to set the record straight by posting a picture of the Queen, a short biography and a photo of an uncleared forest with the caption: "Meanwhile, in Moscow..."
"When @Russia says Anne de Kiev established Russia-France relations, let us remind the sequence of events," Ukraine's tweet read.
Russia's own official Twitter account tweeted in response: "@Ukraine We are proud of our common history. [Russia], [Ukraine] and [Belarus] share the same historical heritage which should unite our nations, not divide us."
The tweet also included a photo of the Cathedral of St. Sophia which was built in Kievan Rus between 1045 and 1050 in the now-Russian city of Veliky Novgorod.
Russia's Ministry of Foreign Affairs also chimed in saying: "Don't be jealous, @Ukraine. In 1051 Kiev was capital of the united #Rus which included territories of modern [Belarus], [Ukraine] and [Russia]."
Ukraine fired back with a GIF of Benedict Cumberbatch's Sherlock Holmes shaking his head along with the caption: "Kyivan Rus stretched to modern-day areas of Moldova, Slovakia, Poland, Latvia, Lithuania and Estonia. Don't give the 'triune nation' nonsense please and comply with international law."
In a response to @Russia, Ukraine quickly tweeted: "You really don't change, do you?"
The post included a Gif from a 1998 episode of The Simpsons which shows a Russian ambassador at the United Nations laughing as the placard placed in front of him flips from "Russia" to "Soviet Union."
While many Twitter users praised Ukraine's response as the perfect burn, Ukraine's foreign minister Pavlo Klimkin warned that the underlying root of the issue is a serious one. Russia-Ukraine tensions have remained heightened since 2014 when Russia took over the Crimean peninsula.
Klimkin tweeted: "The problem with Russia is not about trying to 'expropriate' the figure of French Queen Anne of Kyiv but truly believing her to be Russian."