A Russian-drafted resolution endorsing another ceasefire in Ukraine was unanimously approved by the UN security council (17 February), even as pro-Russian rebels were reportedly taking the key transport hub of Debaltseve in disputed territory in the east of the country.
The new attempt to broker a diplomatic solution was hailed by some as a breakthrough as it referred to the "sovereignty and territorial integrity of Ukraine."
However the US expressed its reservations even while signing the resolution. US Ambassador Samantha Power said the fact it had been drafted by Russia was "ironic, to say the least" coming at the same time Russia was "backing an all-out assault" in Ukraine - comments described as offensive by Russian Ambassador Vitaly Churkin.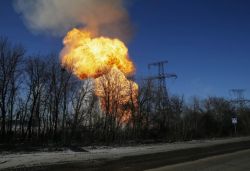 Power was referring to the worsening situation around Debaltseve which is now in the hands of pro-Russian troops after days of heavy fighting. The small town of 25,000 is seen as vital to the rebels as it connects the two main rebel-held areas of Luhansk and Donetsk. Amnesty International believe some 7,000 civilians are trapped in the city at risk of heavy shelling.
Ukrainian troops held out under siege for over a week but were reported to be running out of food and ammunition, cut off from the main Ukrainian lines 10 miles away. Hundreds of Ukrainians have been taken captive, though whether they surrendered or ran out of ammunition is hotly-disputed.
The rest of the conflict zone has been relatively calm since the commencement of the ceasefire and Russian President Vladimir Putin has told the Ukrainian leadership to allow their soldiers to surrender to the rebels.
"I hope that the responsible figures in the Ukrainian leadership will not hinder soldiers in the Ukrainian army from putting down their weapons," said Putin.
"If they aren't capable of taking that decision themselves and giving that order, then [I hope] that they won't prosecute people who want to save their lives and the lives of others."
However Ukrainian President Petro Poroshenko called on the world to take action to stop the Russian "aggressors".
"I call on the permanent members of the UN Security Council to prevent further violation of fundamental principles and rules of the UN and the unleashing of a full-scale war in the very centre of Europe," Poroshenko said in a statement on his website.