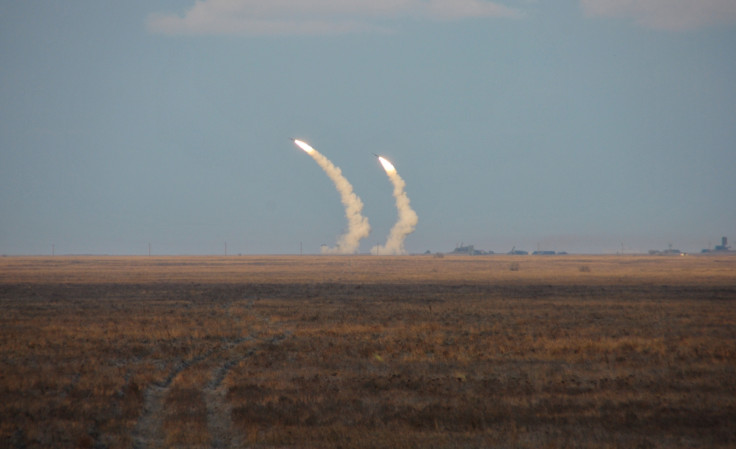 Ukrainian President Petro Poroshenko has revealed that the sole purpose of the two-day missile exercises near the Crimean peninsula is to prepare for a "full-scale incursion" by Russia. Russia, which is on combat readiness in the Black Sea region, has issued a threat to shoot down the missiles if deemed necessary.
Addressing a military gathering during an official ceremony, Poroshenko said the drills are aimed at demonstrating that the Ukrainian military is capable of resisting any aggression from Moscow.
"Let me emphasise once again: the only reason that makes us conduct these exercises [by Ukraine's Air Force] is to be always ready for a full-scale incursion by our aggressive neighbour," said the Ukrainian leader. "I am sure that over the past two years we have demonstrated that we have created a new Ukrainian army."
He added: "It is our responsibility to build air defence for Kiev and the whole of Kherson region Ukraine and no one can stop us."
Kiev is conducting the exercises in the Kherson region, which is close to the administrative border of Crimea – the disputed region formerly a Ukrainian territory which became part of Russia in 2014. On 1 December, the first day of the drills, Ukrainian forces fired off 16 medium-range missiles nearly 30kms from the Crimean airspace.
Following the firing of anti-aircraft guided projectiles, Ukrainian Defence Minister Stephan Poltorak told the Interfax-Ukraine: "Jointly with the Chief of the General Staff, Viktor Muzhenko, we reported to the president of Ukraine - the supreme commander-in-chief that we launched 16 missiles. The plan of assignments has been accomplished, the firing was a success: all targets were hit. Today's exercise is over." More missile and aerial exercises are planned for the second day.
In the wake of the drills, Russia has placed its warships in the Black Sea on air defence positions to provide cover, though Ukraine insists the exercises adhere to international regulations. "Attempt of the Ukrainian side to use Russian air space is a very dangerous precedent. Unfortunately, we know the history of the Ukrainian air defence, so such attempts create problems for ordinary passengers," Russia's Deputy Foreign Minister Alexey Meshkov was quoted as saying.