Ukrainian hryvnia falls to record low as fighting intensifies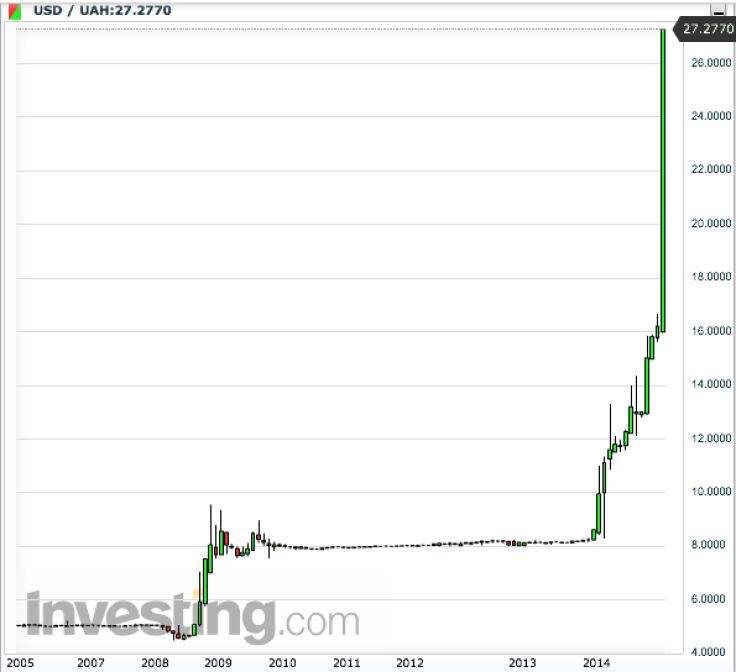 Ukrainian hryvnia that plunged to a record low against the dollar earlier this month has been seeing deeper lows every day with the fight in the east continuing and authorities getting more and more worried about the deteriorating economic outlook.
USD/UAH rallied to 27.20 on Friday, a new record high for the pair, translating to a 40% fall in the local currency so far this month. The hryvnia started plummeting last year as the conflict with Russia intensified, and on the year, it fell more than 47%.
Russian separatists had spurned a truce and forced government troops to take over the strategic railway hub of Debaltseve, intensifying the war on Ukraine's eastern border.
The 17 February setback is considered one of the worst defeats suffered by Kiev in the 10-month conflict as weary and demoralised soldiers withdraw from Debaltseve.
During the withdrawal, 13 servicemen were killed and 157 wounded and a further 82 were still missing; 93 were taken prisoners.
Media reports say that shelling continued in the region as also in the rebel stronghold Donetsk.
Western countries have accused Russia of equipping the rebels with advanced weaponry but Moscow denies this.
Valeriia Gontareva, the Governor of the Bank of Ukraine said on 18 February, that he sees the country to further contract 4.5-5.5% and core inflation rate to be close to 20%.
"The investment and consumer demand will be low; recovery of investment processes and consumption only expect to next year. Core inflation will return to single digit only by 2016," Gontareva said.
Ukraine's headline inflation rate was 28.5% year-on-year in January and the GDP contraction deepened to -15.2% in the fourth quarter of last year. Except for the last quarter of 2013, Ukraine's GDP rate was negative since the third quarter of 2012.
© Copyright IBTimes 2023. All rights reserved.