Ukrainian president brands Russia 'an enemy that failed to bring us to our knees'
Petro Poroshenko struck a martial tone during his country's 25th independence anniversary celebrations.
Ukraine's President Petro Poroshenko has described Russia as an "enemy which occupies a ninth of our land" during celebrations marking the 25<sup>th anniversary of Ukraine's independence. Referring to Moscow's annexation of Crimea in 2014 and the conflict raging in the east of the country, the Ukrainian president vowed that his country would defend itself but it needed western help.
In the largest military procession since it declared independence in 1991 after the break-up of the USSR, troops marched through Kiev's Independence Square with tanks, missile carriers and other materiel flanking the president during his speech.
In his address, the president said: "Our international partners from the parade will get the message that Ukraine can defend itself but it needs long-term support. After all, our enemy is a country that occupies one ninth of the land and has a military budget dozens and dozens times more than ours.
"Looking back on more than two years of the war, we can confidently say that the enemy failed to implement one strategic objective and has failed to bring Ukraine to its knees. For this 2,504 of our soldiers perished."
The parade came amid the backdrop of the seizure of the Crimean Peninsula in March 2014 and the subsequent war in the east of the country in which 9,500 people have so far died.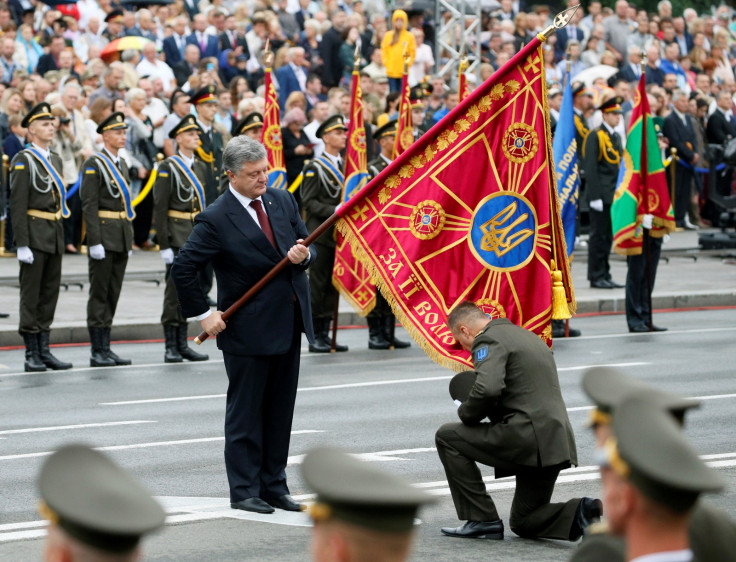 Tensions with Russia over Crimea increased after claims by Russia that two of its servicemen were killed by Ukrainian intelligence officers coming into the peninsula. The incident has sparked fears the ceasefire deal of February 2015, brokered by Germany and France, could collapse following the deadliest month of fighting in a year.
A week before the parade, Poroshenko warned of the chance of a "full-scale invasion" of Ukraine by Russia and put his military on high alert.
Tetyana Vovnyanko from the group London Euromaidan told IBTimes UK that the Independence Day parade was a reflection of Ukrainian identity amid a testing time for the country.
"It is an extremely significant day and very emotional because we have been officially independent for 25 years but on the other side we have a very long history of being a separate country.
"Now when we are fighting for our independence at the moment, so we start to value what we have, that is why this day is more important than ever."
In statement to mark Ukraine's Independence Day, Britain's minister for Europe, Sir Alan Duncan, said: "The UK was the first EU country to recognise Ukraine, and we remain a staunch supporter of Ukraine's sovereignty and territorial integrity."
US Secretary of State John Kerry sent his congratulations and referred to the Maidan protests of 2013 as a "revolution of dignity".
"With our European partners, we will also press for full implementation of the Minsk agreements to end Russian aggression in Donbas and return the international border to Ukrainian control.
"We remain steadfast in our refusal to recognize Russia's attempted annexation of Crimea," he said in a statement.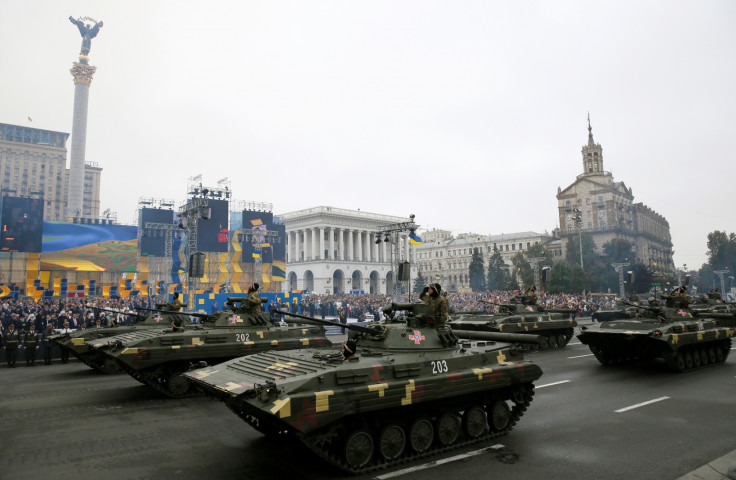 © Copyright IBTimes 2023. All rights reserved.