Hundreds of Thousands Rally for EU Deal in Kiev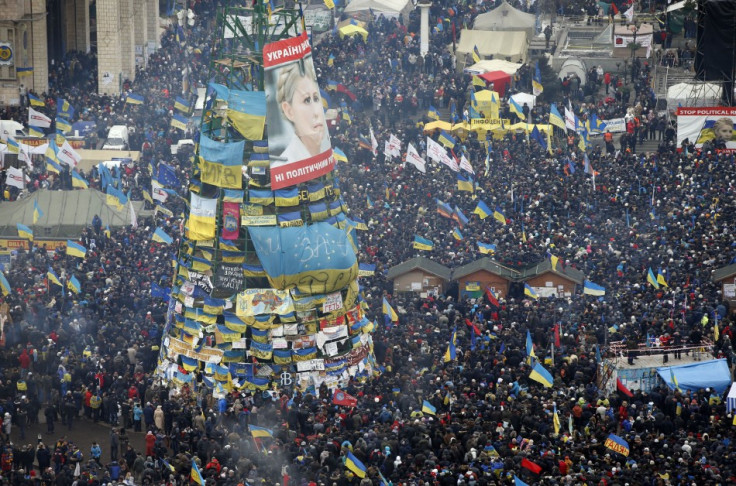 Reuters
Hundreds of thousands of protesters took to the streets of the Ukrainian capital of Kiev on Sunday, calling on the Ukrainian government to sign a political deal with the EU.
About 200,000 protesters converged on the city's Independence Square to show that, even after four weeks of protest, they have no plans to back down.
Some news agencies put the size of the crowd at between 150,000 and 300,000 people.
The protests began in November after Ukrainian President Viktor Yanukovych announced he would not sign the EU association agreement, which would have strengthened his country's trade and political ties with Europe. Since then the demonstrations have grown in size and intensity after violent police dispersals.
Critics say Yanukovych's decision was heavily influenced by Russia and his desire to strengthen the countries' relationship.
Yuri Lutsenko, a former interior minister and opposition politician, told the protesters they were fighting for independence.
"It is an anti-colonial revolution. Above all, Ukrainians turned out to say to Moscow: 'We are no longer under your command, we are an independent country'."
US senators John McCain (Republican) and Chris Murphy (Democrat) spoke at the rally to express America's support for stronger European ties. They said the US was willing to impose sanctions against the Ukrainian government if authorities used more violence to disperse the protesters.
McCain told the crowd: "Ukraine will make Europe better and Europe will make Ukraine better. We are here to support your just cause, the sovereign right of Ukraine to determine its own destiny freely and independently. And the destiny you seek lies in Europe."
But an EU official suggested that despite the rallies negotiations were drifting "further and further apart".
Stefan Fuele, a Czech diplomat and the EU commissioner for enlargement and European neighbourhood policy, tweeted: "[The] Words and deeds of president and government regarding the associated agreement are further and further apart. Their arguments have no grounds in reality."
© Copyright IBTimes 2023. All rights reserved.