UK Chancellor George Osborne Promises Economic Stability Despite Tory Tax Cuts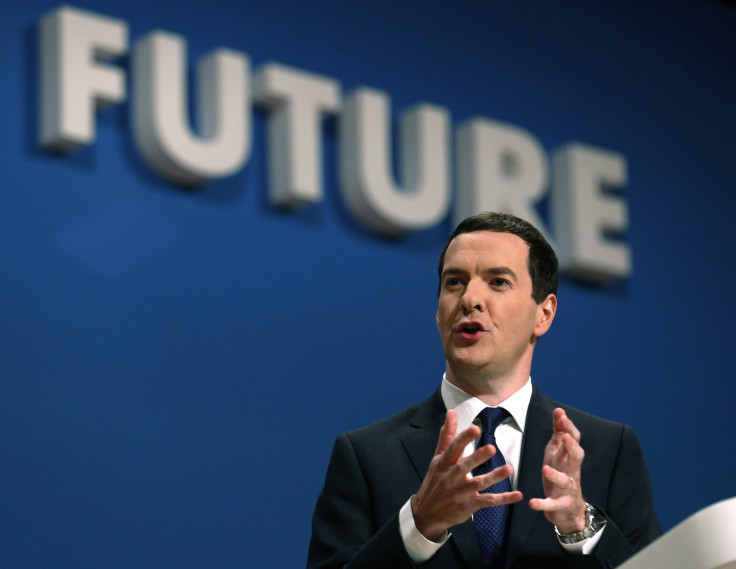 The UK Chancellor George Osborne has assured some of Britain's biggest business leaders that tax cuts and economic stability go hand-in-hand.
Osborne, speaking at the Institute of Directors annual convention, said the Conservative Party had "unashamedly" put business at the heart of its political message ahead of the 2015 General Election next may.
"We've got to make work pay, with got to make sure the system works for hard-working people," Osborne said.
"That means making sure people pay less tax, the people on low pay are taken out of tax and people on middle incomes, too, see their tax rates reduced.
"I think we can achieve both economic stability and lower taxes. Not because they are in tension with each other, but that they are actually an essential part making sure that Britain is a competitive economy, where work pays and enterprise is rewarded."
The chancellor's comments come after Prime Minister David Cameron announced a future Conservative government would lift the tax-free personal allowance on income tax to £12,500 ($20,235, €16,069) by 2020.
The current rate is set at £10,000 and means an employee who works 30 hours per week and earns £6.50 an hour is only taxed £28 a year.
The Conservative Party leader also promised to raise the 40p income tax threshold from £41,900 to £50,000 in the next parliament.
Osborne spoke about the UK government's relationship with the rest of the European Union at the IoD annual convention.
The chancellor stressed he wants to push for reform in the EU for all of its members.
"Part of our pitch, if you like, to the people of the UK and Europe is: We want economic reform in Europe, not just for ourselves, but for the French, and the Germans, and the Italians, and the Spanish," Osborne said.
"Look at some of these economies on the other side of the Channel, they are facing real challenges. So we make this argument about deregulation and a competitive pro-business argument in Europe. We do it, not just for our own sakes, but because we want to live in a prosperous economy."
Osborne said the government was "finding allies" on the deregulation front because the economic crisis had focused EU leaders on job creation and economic activity.
© Copyright IBTimes 2023. All rights reserved.