The total wealth gap between the UK's poorest and wealthiest households has risen under the first two years of the Coalition Government.
According to official figures, the wealthiest 20% of households had 105 times more aggregate total wealth than the least wealthy 20% of households in 2010/12.
The Office for National Statistics (ONS) said this was in comparison to 2008/10 when the wealthiest 20% of households had 92 times more aggregate total wealth than the least wealthy 20% of households.
Labour MP William Bain told IBTimes UK that he was "shocked" by the figures.
"I think it shows the huge problem that we've got in terms of growing inequality – not just in terms of incomes – but also the real problem with a lack of pensions, savings and property," Bain said.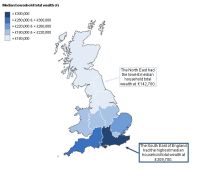 "It's a big crisis that the government has got to get to grips with."
The Wealth Gap
The research also revealed that the aggregate total wealth of all private households in the UK was a whopping £9.5tn ( $15.9tn, €11.6tn) in 2010/12.
The ONS also said that half of all households in the UK had total wealth of £218,400 or more IN 2010/12.
Meanwhile, the poorest 10% of households in Great Britain had wealth of less than £13,100.
The figures also revealed that there was a North/South divide in total wealth throughout the UK.
Households in the South East had the highest median wealth of £309,700 in 2010/12 – a vast difference compared to the North East which had the lowest median wealth of £142,700 [Fig 1].
"The government's long-term economic plan is working and Britain is coming back," said a spokesman for the Treasury.
"Income inequality is at its lowest level since 1986, and the main measure of wealth inequality has remained constant since this survey began in 2006.
"The effects of the Great Recession are still being felt which is why we have taken continued action to help hardworking people by cutting income tax and freezing fuel duty."