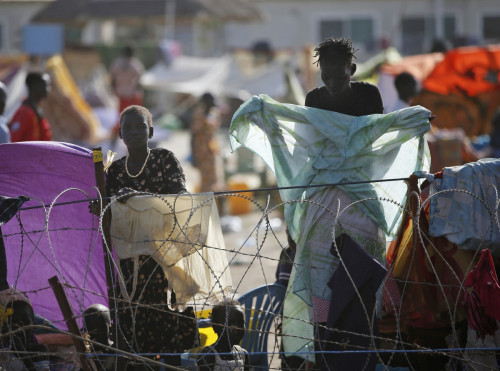 United Nations helicopters evacuated US civilians from the South Sudanese city of Bors, only a day after an American military rescue mission had to be aborted when aircraft came under fire.
They were taken to the UN base in Juba, from where all non-essential staff are being transferred to Uganda.
Four servicemen were wounded in attack on the three CV-22 Ospreys on Saturday as they were preparing to land in a UN compound, the US military said in a statement.
The aircraft returned to Entebbe, Uganda, and the injured personnel were then flown on to Nairobi, Kenya, where they received medical treatment.
Bor, capital of Jonglei state, has been the scene of some of the worst violence of the uprising so far. A South Sudan official told the AP that corpses of civilians were "sprinkled all over town".
He added that the town had not been in government control for more than a week, and that rebels were responsible for the attack on the aircraft.
On Friday, a UN helicopter was fired on while evacuating civilians from the city of Yuaei, which is also in Jonglei. The aircraft had to make an emergency landing. None of the crew was injured.
The previous day, 20 people were killed when about 2,000 armed youths attacked a UN peace keeping base in Jonglei state. Two Indian peacekeepers were also killed, and the attackers fled with ammunition and weapons.
Approximately 40,000 people have taken refuge from the fighting in UN bases since violence broke out.
Hundreds have been killed in the fighting, which began in Juba, but has spread to the country's oil reserves further north.
The Secretary General of the UN, Ban Ki-moon, said that the organisation was committed to shield civilians from the violence.
"There are many more thousands of people who are very much in fear and vulnerable, and at this time, the priority of the United Nations is to (protect) the lives of civilians," Ban told a news conference in the Philippines.
The UN Office for the Coordination of Humanitarian Affairs estimates that approximately 62,000 civilians have so far been displaced by the conflict.
South Sudan's president, Salva Kiir, an ethnic Dinka, said that the violence had been sparked by an attempted coup by the country's former vice-president, Riek Machar, an ethnic Nuer.
Tensions between the groups have been high since Kiir fired his entire cabinet earlier in the year.
Fighters from the southern part of the country fought a decade-long civil war with those from the north which ended after a peace deal in 2011, under which it was agreed after a referendum to split the country in to South Sudan and Sudan.
Numerous armed factions exist South Sudan, the site of a number of rich oil wells.