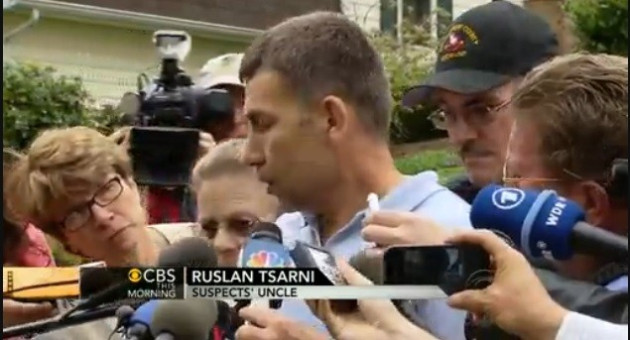 The uncle of the two brothers suspected of causing the Boston Marathon bombings has implored the younger sibling, Dzhokhar Tsarnaev, to surrender to police.
Ruslan Tsarni told reporters outside his home in Montgomery Village: "Dzhokhar, if you are alive turn yourself in and ask for forgiveness from the victims, from the injured,"
He said the suspect has "put a shame on our family" and "on the entire Chechen ethnicity", making clear that "these are two individuals" and do not represent the entire Chechen people.
"My family has nothing to do with [my brother's] family," he shouted. "Of course we're ashamed! My brother had little influence over them."
Tsarni said he has not seen the Tsarnaev family since December 2005 and was not aware of them having "ill-will against the US".
He made it clear that this "has nothing to do with Islam", calling it a "fraud" and a "fake". According to Tsarni, the bombing is unrelated even to Chechnya.
"They have never been to Chechnya! It has nothing to do with Chechnya. They were born elsewhere, in Kyrgyzstan.
"Somebody might have radicalised them, but not my brother," he conjectured. "He spent time bringing bread to the table and working hard."
"I just want my family to be away from them," he said, asking for forgiveness from relatives of the victims of Monday's bombing.
"With the families of those who suffered, we are suffering with them, their grief. I'm ready to kneel in front of them and ask their forgiveness," he said.