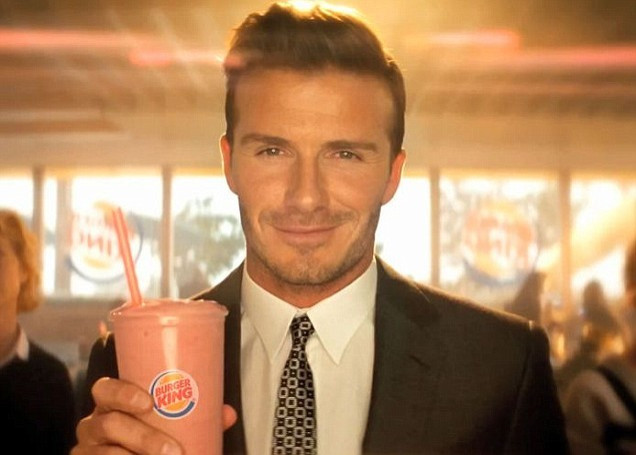 Weeks after he launched his new H&M underwear range, David Beckham is trying his hand at a tastier project by lending his name to Burger King's new campaign.
The super-fit LA Galaxy star, who is promoting the chain's new 310 calorie smoothie, shows off his charm in the new Burger King advert.
During the 30-second clip, the 36-year-old footballer can be seen queuing up at the counter to order one of the fruit smoothies.
Dressed casually in a shirt and jeans, he asks a female employee: "Can I get one of those new strawberry banana smoothies?"
After being instantly mesmerised by his British charm, she asks him to repeat the question as she begins to daydream.
Once in her fantasy world, Beckham is transformed into looking extra dapper in a smart black suit, with slicked back hair.
Repeating his request in a more seductive voice, he says: "Hi, beautiful. May I please have a strawberry banana smoothie?"
As she continues to daydream, her manager is forced to intervene and apologise to Beckham for the delay, but not before he becomes captivated by the handsome footballer himself.
Beckham is among a list of celebrities, including Mary J Blige, Jay Leno and Salma Hayek, who will be starring in the television adverts.
The international fast food chain has launched the strawberry banana smoothie as a healthier option, as it makes changes to its menu in a bid to overcome a slump in sales.
Check out the advert here: