Opponents of Labour leader Jeremy Corbyn are stoking the anti-Semitism row engulfing the party for political ends and to undermine his leadership, the head of the Unite union has said.
Len McCluskey's intervention, which comes after comments by ex-mayor Ken Livingstone and MP Naz Shah saw both high profile members suspended, will be seen as a way to dissuade any leadership coup attempt and came on a day when Corbyn ally Diane Abbott MP said the row had "smeared" Labour.
McCluskey, who heads the Labour party's biggest donors Unite, told BBC Five Live that Labour had been right to suspend Livingstone for saying Adolf Hitler had supported Zionism in the 1930s. But he added that the row was being stoked up by the right-wing press and was "aided and abetted by those Labour MPs who wake up and think what stick can we beat Jeremy with?"
However McCluskey doubted there would be a bid to topple Corbyn and that anyone "stupid enough to try" would be "accountable for their actions". He then ramped up his language later in the day, accusing some MPs by name of employing "treacherous" tactics to damage Corbyn.
In a separate interview with the Guardian, he said: "We have had Michael Dugher saying Jeremy has 99 days to prove himself and suddenly 5 May becomes a litmus test on Corbyn's ability to lead the party. We have had Liz Kendall saying we should win 400 council seats.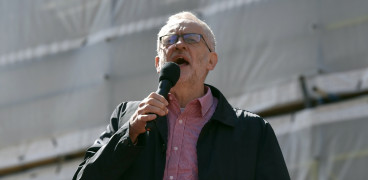 "This is the woman who got 4.5% of the vote in the leadership election. We won't be taking lectures off people like that who are interested in setting false traps," he said.
Meanwhile, Corbyn addressed a May Day rally which he told his party opposed anti-Semitism "in any form", saying: "We stand united as a Labour movement recognising our faith diversity, our ethnic diversity, and from that diversity comes up strength."
Earlier on Sunday 1 May, a key Corbyn ally, shadow international development secretary Diane Abbot defended the party's handling of the crisis, telling the Andrew Marr Show that there had only been 12 cases of alleged anti-Semitism in the party since Corbyn became leader and each had led to a suspension.
She said: "It's something of a smear against ordinary members to say the party has a problem with anti-Semitism. There are issues about process. There is nothing in the rules about racism, anti-Semitism and Islamophobia. We are going to make the rules explicit."
But there is unhappiness within Labour at the comments by Abbot and how the party is handling the row, with Ben Bradshaw MP telling the Guardian: "I'm increasingly of the view that Ken Livingstone is a Conservative party spy who's been planted in the Labour party and has been sleeping and has now emerged to try to do as much damage as he possibly can."
Meanwhile, Louise Ellman, the Jewish MP for Liverpool Riverside, said the party's response to the crisis had been "much too slow".