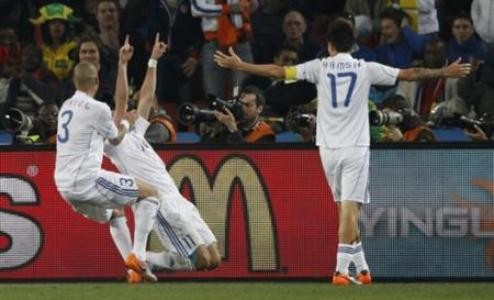 Manchester United and Manchester City have been dealt a blow in their pursuit of Marek Hamsik, with the playmaker set to sign a new deal with Napoli.
Hamsik has starred for the Serie A side over the last two seasons, and has had a big hand in helping them through the group stages of the Champions League over City.
And while the Citizens have admitted interest in Hamsik's signature, along with United sending scouts for the star, his agent Juruj Vengalos claims that a new deal with Napoli is nearing completion.
"We hope to sign a contract renewal soon," Vengols told Talksport.
"There is a concrete proposal from Napoli and the possibility of Hamsik staying is very weak. Marek will continue his adventure at Napoli because he is happy and wants to fight for trophies.
"The rumours of foreign clubs interested in the boy are normal for a player of his quality but Napoli are not willing to sell."
United are on the lookout for a midfield signing, and despite Sir Alex Ferguson claiming he won't make any moves in January, the side are currently struggling on all fronts, being ousted from the Champions League in the group stages just this week.
City, meanwhile, have been tracking Hamsik, along with Ezequiel Lavezzi and Edinson Cavani, for some time. Head scout Carlo Cancellieri told reporters: "I confirm the interest of Manchester City in Hamsik, Lavezzi and Cavani, and I think that this should only please the Napoli fans.
"Napoli are a growing team who do not want to sell their best players. The strength of Napoli is the very soul and compactness of the group."
It was always going to be an uphill battle for United or City to convince Hamsik to leave the club, but after Napoli made their way through the Champions League group stages, including defeating City 2-0 with a Cavani brace, it now appears that any likely deal won't go through until next season at least.
In 148 appearances for the Serie A side, Hamsik has scored 43 times, and both United and City will no doubt continue to monitor the £30 mililon-rated player even is he does commit to Napoli for the long term.