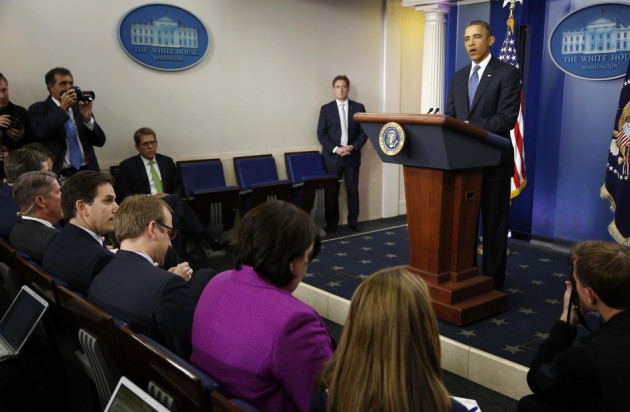 Senate Leaders are making last-minute efforts to come up with a deal to avert the fiscal cliff crisis as US President Barack Obama expressed "modest" optimism on reaching a solution soon.
Following weeks of nerve-wracking political deadlock over the issue, the president held talks with Democratic Senate majority leader Harry Reid and Republican minority leader Mitch McConnell for a final-hour solution.
"I still want to get this done - it is the right thing to do for our families, our businesses, and our entire economy, but the hour for immediate action is here," Obama said.
He said that the Senate leaders were trying to come up with a plan that could be approved in both chambers of Congress, but warned that if a deal was not reached, he would seek a vote to extend tax cuts to those earning less than $250,000 (£150,000) a year and retain unemployment insurance.
"The American people are not going to have any patience for politically self-inflicted wounds to our economy," he added.
Contrasting earlier sentiments, Democratic and Republican leaders too remained positive on finding a middle ground before time runs out.
"We'll be working hard to try to see if we can get there in the next 24 hours. So I'm hopeful and optimistic," McConnell said.
Lawmakers now have about three days to avert the automatic spending cuts and tax hikes set to kick in by the beginning of 2013. Economists have warned that a failure to find a solution could push the world's largest economy into recession.
Despite Obama's efforts to keep hopes alive, reaching a final deal will be tough since the most Republicans in the House of Representatives remain stubborn against increasing taxes. Boehner has said that the house will consider any proposal that the Senate comes up with.
The major issue is the threshold for increasing the tax rates. Initially Obama had maintained the level at those earning less than $250,000, but later relented to $400,000. A Republican "Plan B" which never saw the light of day was to raise taxes for those with more than $1m income.
Concerns weighed on markets with the S&P 500 dipping for the fifth consecutive session before the weekend and the S&P, Dow Jones and Nasdaq futures falling after the president's comments.