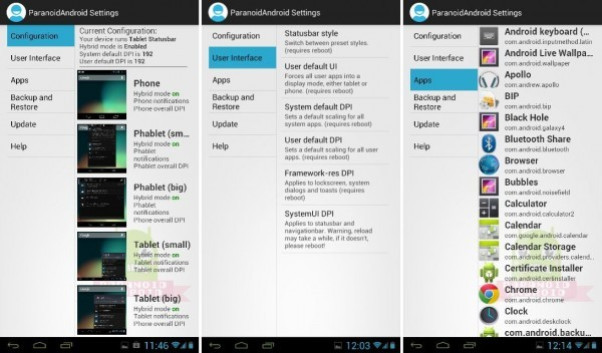 HTC One S finally gets the phablet (hybrid of phone and tablet) UI, thanks to Paranoid Android ROM being ported to it. Recently, the hybrid ROM has hit a variety of devices including HTC Wildfire, Desire and Sensation.
The Paranoid Android ROM delivers the hybrid interface with the ability to individually set each app, widget or system component for use in tablet, phone or phablet mode, besides supporting full customisation of the interface. The ROM brings the latest version of Android - Android 4.1 Jelly Bean - onboard the HTC One S with enhanced features such as smooth and fluid interface, an improved notifications menu with highly customised notifications, a new Google Search app with voice recognition and information cards, a highly accurate keyboard, etc.
The ROM is an unofficial release and may harbour a few untested bugs or broken features. Besides, it is based on stock Android and hence any HTC-specific or native features will be unavailable, and certain apps may function differently from their stock versions (such as the camera or gallery).
Key Points to Note
The ROM and the instructions provided in this guide are compatible only with the 1.5GHz dual-core HTC One S model. It will not work with the 1.7GHz Snapdragon S3 variant or any other device.
IBTimes UK advises users to backup apps, important data and settings to avoid data loss while installing the Jelly Bean update.
Make sure to unlock the bootloader and install ClockworkMod Recovery on your HTC One S before proceeding with the ROM installation guide.
Download and install the HTC Sync software, which is required to install the USB drivers for the phone. Ignore this step if HTC Sync is already installed on your computer. Download HTC Sync Manager.
The instructions given in this guide are meant for reference purpose only and do not cover any warranty claims involving device damage or issues arising out of using the Paranoid Android firmware update. Users are advised to proceed at their own risk.
How to Install Paranoid Android Based Android 4.1 Jelly Bean Update on HTC One S
Step 1: Download the latest version of Paranoid Android ROM based Jelly Bean update from XDA Developers official thread (Download here).
Step 2: Download the Google Apps (GApps) package.
Step 3: Without extracting, copy the downloaded ROM and GApps file to the phone's internal SD card.
Step 4: [Backup Current ROM] In order to restore your existing ROM from the new ROM, make a backup of it (this is different than the backup taken in step 1 as this backs up the whole ROM).
Power off your phone and boot into bootloader mode through a button sequence. Press and hold the Volume Down button and then press power key to reboot into recovery mode on device. Then, highlight Recovery option from there using the volume buttons to navigate and press power button to select it.
To do a backup, choose Backup and Restore and on the next screen, hit Backup again. Return to main recovery menu once backup is done and then tap reboot system now to restart the phone.
Step 5: Browse and open the downloaded zip file of the ROM and extract the boot.img file from inside it (use a software like WinZip or 7-zip to extract).
Step 6: Download fastboot.
Step 7: Extract the Fastboot.zip file to the C: drive on your computer to obtain a folder named Fastboot with four files inside it.
Step 8: Copy the boot.img file extracted in step 5 to the Fastboot folder on C drive. You should see 5 files in the Fastboot folder now.
Step 9: Power off the phone and enter fastboot mode. To do this, boot into the bootloader mode by holding the Volume Down button and then pressing the power key. Now, choose fastboot mode from there using the volume buttons to navigate and power button to select. Finally, plug your phone to the computer once you enter fastboot mode.
Step 10: On the computer, click on Start " All Programs " Accessories " right-click on Command Prompt and hit Run as administrator.
Step 11: Type the following commands at command prompt to flash the boot.imgfile. Press Enter after each command.
cd c:Fastboot
fastboot devices (this is to ensure the phone gets detected). A string of numbers and letters should appear if the phone is properly identified. Else, make sure you have the correct USB drivers for the handset installed or reinstall HTC Sync (which installs the required drivers for the phone)
fastboot flash boot boot.img
Step 12: After the boot.img is flashed, you will see a "finished"/OKAY message in the command prompt window. Now, type adb reboot bootloader at the command prompt to reboot into the bootloader mode.
Step 13: Unplug your phone from the PC and the phone should enter bootloader mode.
Step 14: In bootloader, highlight the Recovery option using the volume buttons to navigate and press power button to select it. This will boot into recovery.
Step 15: Tap wipe data/factory reset and then click Yes on next screen to confirm. Wait until the data wipe process completes.
Step 16: Choose install zip from sdcard and then tap choose zip from sdcard. Browse and select the ROM file on the SD card. Confirm ROM installation by clicking Yes on the next screen. The ROM will begin installing.
Step 17: After ROM is installed, hit choose zip from sdcard again, then choose the gapps-jb-20120726-signed.zip file to install the Google apps package.
Step 18: After GApps is installed, hit go back then tap reboot system now to reboot the phone into Paranoid Android ROM.
NOTE: If you want to return to your previous ROM, boot into recovery (as explained in step 4.1), choose backup and restore and then hit restore to restore your previous ROM.
Paranoid Android ROM based Android 4.1 Jelly Bean is now installed on your HTC One S.
[Source: The Android Soul]