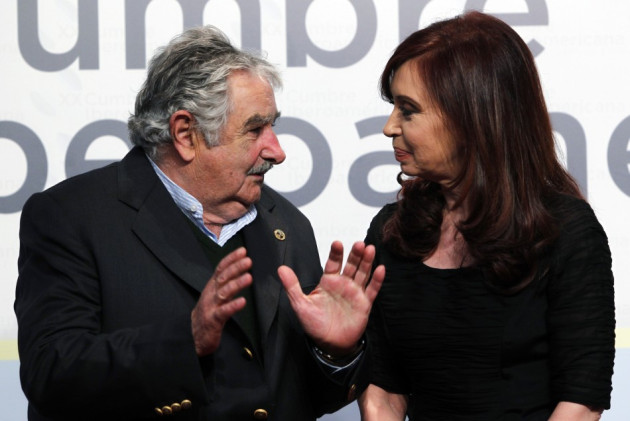 The perils of loose words spoken near stray microphones came home to haunt the president of Uruguay who called Argentina leader Christina Fernandez an "old hag".
Jose Mujica thought nobody would hear his muttered slur about his fellow South American leader.
But his words to an adviser during a press conference were indeed picked up by a microphone and as a result the whole world knows.
Mujic was evidently tiring of hearing Fernandez address gathered journalists at a trade event in his home country attended by the Argentine leader, when he made the remark.
Turning to a colleague he said: "This old hag is worse than the cross-eyed man."
Mujica's gaffe was compounded by the fact the "cross eyed man" in his slur was Fernandez's own late husband, who died of cancer in 2010.
Making the incident yet more awkward was that it happened during talks to bolster ties between the two countries and Brazil.
Unabashed socialist revolutionary Mujica, who spurns the trappings of high office by living in near poverty on a farm, apparently brought his rustic farmyard demotic to high diplomatic circles.
Argentinian foreign Minister Hctor Timerman called Mujic's remarks "denigrating" and "offending the memory of the dead."
Following the episode, the Uruguayan ambassador in Buenos Aires was summoned to the Foreign Office for an official protest at the "deep discomfort" felt by offended Argentina. It added the words were hurtful because Fernandez considered the so-called "world's poorest president" a friend.
A stiff letter to Uruaguay read: "The Foreign Ministry would like to let the Uruguayan Embassy know of the deep discomfort created by President Jose Mujica's statements regarding late President Nestor Kirchner."
Yet Mujica has denied insulting Fernandez. He told Le Repulica: "I was talking about Lula and Brazil. I never spoke publicly of Argentina. I'm not going to give ball or going to travel the world clarifying everything."
Loose words near stray microphones have landed a succesion of leaders in hot water. In 2010, Gordon Brown was picked up called a Labour supporter "a bigoted woman" after apparently listening earnestly to her complaint about immigration policy.
Former UK Prime MInister Tony Blair's stature took a knock when microphones heard US President George W Bush address him as "Yo Blair" in 2006 at a G8 summit in Russia.