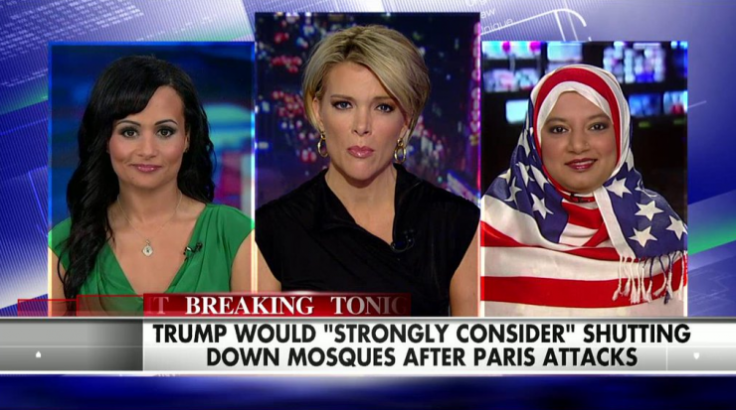 An American Muslim sporting a star-spangled hijab took to Fox News to challenge Republican presidential candidate Donald Trump's assertion that he would "strongly consider" the forced closure of mosques in the US in the wake of the Paris terror attacks. In Fox News' "The Kelly File" last night (17 November), Megyn Kelly invited Saba Ahmed, president and founder of the Republican Muslim Coalition to go head-to-head with Katrina Pierson, a spokeswoman for Trump over the comments.
Kelly began the conversation by speaking about the rights granted under the First Amendment, which guarantees the free practice of religion in the US. "We have freedom of speech, we have freedom of religion," Kelly said. "And we're opening up a very dangerous door if we get the government getting to go into a religious institution and decide what amounts to hate speech."
Kelly then threw the debate over to Pierson, who started by listing Islamists "from the not too distant past" who have been involved in terror-related activities and also frequented mosques in the US. Taking Pierson's points on board, Kelly noted that "even experts such as Andrew McCarthy have said that the mosques tend to be hotbeds for political activity, not as much religious activity." She then handed the baton over to a perfectly poised Ahmed.
"Megyn, we go to the mosque to pray," Ahmed responded. "You wouldn't shut down churches because there were one or two Christians who were acting badly. The mosque has nothing to do with the terrorist. Yes, there are people who misuse the religion for their perverted ideology, but that has nothing to do with my faith."
Calling out an increasing tendency to tar all Muslims with the same brush because of a small minority of extremists, Ahmed said that the mosque in question had thousands of worshippers who were "working hard to be good American citizens." Pierson retorted by saying: "Megyn, it's not a few people, it's not a few people. It is the founder of that mosque [Abdurahman Alamoudi, who is serving 23 years] that is in prison right now today for plotting terrorism, and not to mention the ones that have followed after him." Clearly, Pierson's argument fails on pure mathematics in that a handful of people are not representative of the estimated 2.6 million Muslims in the US.
Ahmed's appearance in the colours of the US flag made a defiant statement: that many American Muslims are proud of both their nation and faith, and they are not afraid to celebrate it. Speaking to Mic on her decision to wear the star-spangled hijab, Ahmed said: "The reason I did it is that I wanted to portray that there are patriotic American Muslims and we just want to live in peace." She added: "Obviously what Isis [Islamic State] is doing does not represent our faith. They're perverting our religion, and they don't represent us in any way. We're doing what we can and we would appreciate if Americans would just accept us and live in peace."
And the Twittersphere erupted in delight.