The US State Department has announced that the country will be withdrawing from the UN's cultural organisation UNESCO over what it calls "continuing anti-Israel bias".
State Department spokesperson Heather Nauert said in a statement that the withdrawal will take effect on 31 December 2018.
The move was later followed by Israel which also announced its departure from the organisation.
The US statement said it would seek to "establish a permanent observer mission to UNESCO" instead, though would stay a full member until the withdrawal date.
"This decision was not taken lightly, and reflects US concerns with mounting arrears at UNESCO, the need for fundamental reform in the organisation, and continuing anti-Israel bias at UNESCO," Nauert said.
"The United States indicated to the director general its desire to remain engaged with UNESCO as a non-member observer state in order to contribute US views, perspectives and expertise on some of the important issues undertaken by the organisation, including the protection of world heritage, advocating for press freedoms, and promoting scientific collaboration and education."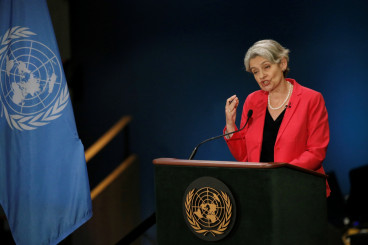 Israeli Prime Minister, Benjamin Netanyahu, welcomed the US's "courageous and ethical decision", saying "UNESCO has become a theatre of the absurd and instead of preserving history, distorts it."
He then added that he had instructed Israel's foreign ministry to leave UNESCO "in parallel with the United States".
UNESCO Director General Irina Bokova expressed "profound regret at the decision of the United States" in a statement. "Universality is critical to UNESCO's mission to strengthen international peace and security in the face of hatred and violence, to defend human rights and dignity."
"At the time when the fight against violent extremism calls for renewed investment in education, in dialogue among cultures to prevent hatred, it is deeply regrettable that the United States should withdraw from the United Nations agency leading these issues." Bokova said.
In July 2016, Bokova told IBTimes UK she wanted to build trust among Israelis and Palestinians about flashpoint sites in Jerusalem.
It's not the first time the US, a founding member of UNESCO, has left the organisation. Ronald Reagan's administration left in 1984, then George W. Bush brought the country back in 2002. Under Barack Obama, the US halted nearly $80m of contributions to the organisation after it accepted Palestine as a member.