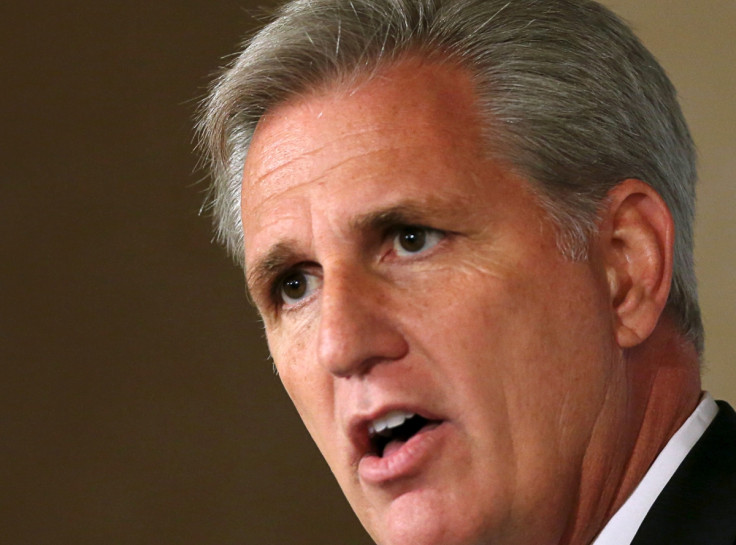 Just three days after House Speaker John Boehner announced his surprise resignation, the race to replace him has officially begun. California Republican Kevin McCarthy said on 28 September that he is running to replace Boehner as speaker.
In a letter announcing he is running to his GOP colleagues, McCarthy wrote: "If elected Speaker, I promise you that we will have the courage to lead the fight for our conservative principles and make our case to the American people."
The line is a reference to one of the biggest criticisms against Boehner, that he did not fight hard enough for the conservative principles of the party, WBUR noted. "We can't ignore the differences that exist," McCarthy wrote, "but we can and must heal the divisions in our conference with work, time, and trust."
According to The Washington Post, the House majority leader spent the weekend since Boehner's resignation talking with his GOP colleagues to gather support. "I am running to be your Speaker because I know that the people's House works best when the leadership you elect listens to members and respects the legislative process entrusted to committees," he wrote.
WBUR reported McCarthy is known for being able to bring members closer and has been described as a good listener by his colleagues. "You all know me. We've spent late nights on the House Floor together. I've visited your districts and met your families and constituents. More importantly, I have gotten to know your ideas, your goals, and your vision for our conference and our country," he wrote.
While McCarthy is considered the front-runner to succeed Boehner, he will face competition from at least one other contender: Florida Representative Daniel Webster. McCarthy's letter in its entirety is below:
Friends,

Our conference has been through a lot together. We are a part of the largest Republican majority since 1928. We have made real progress towards shrinking an overgrown federal government and reforming our broken entitlement system. But our work is far from done. We can't ignore the differences that exist, but we can and must heal the divisions in our conference with work, time, and trust. That is why I have decided to run for Speaker of the House and graciously ask for your support.

You all know me. We've spent late nights on the House Floor together. I've visited your districts and met your families and constituents. More importantly, I have gotten to know your ideas, your goals, and your vision for our conference and our country.

I am running to be your Speaker because I know that the People's House works best when the leadership you elect listens to members and respects the legislative process entrusted to committees. In short, I am guided by something Ronald Reagan once said: "The greatest leader is not necessarily the one who does the greatest things. He is the one that gets the people to do the greatest things."

But I am also sensitive to what is happening outside of the Beltway. I want us to be much closer to the people we represent, and I want them to once again feel like this is their government, they are in charge, and we are here to serve them.

If elected Speaker, I promise you that we will have the courage to lead the fight for our conservative principles and make our case to the American people. But we will also have the wisdom to listen to our constituents and each other so that we always move forward together.

Over the past weekend, I reached out to every one of you to listen to your opinions and ask for your advice. I know that you ran for Congress to make a difference, to leave a better country for your kids and grandkids. There are challenges ahead, but unified we have an amazing opportunity to make lasting conservative change. And I know when we work together under the banner of freedom and opportunity there is little that is out of our reach.

I look forward to fighting with you for our shared conservative principles.

Sincerely,

Kevin