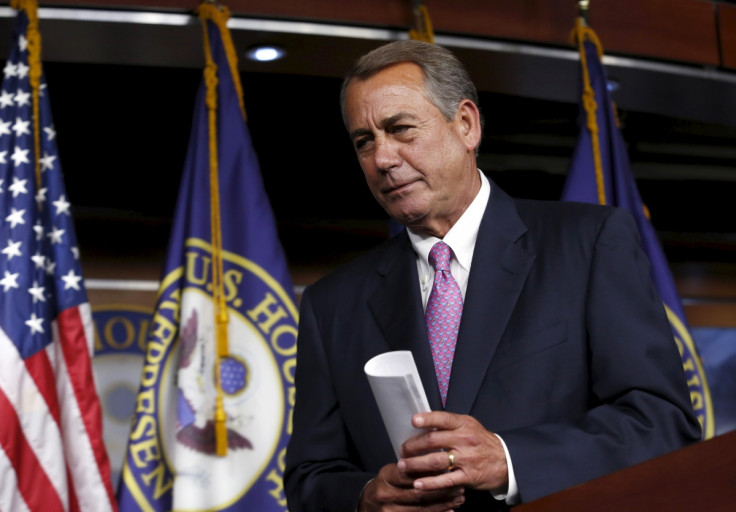 John Boehner, the speaker of the US House of Representatives and one of the most influential Republicans in Washington, has announced he will step down at the end of next month. Boehner reportedly told fellow lawmakers he will resign not only as speaker, an office he has held for almost five years, but also as congressman.
The 66-year-old from Ohio broke the surprising news at a morning meeting with members of his party. Fellow republican John Mica said: "[Boehner] just does not want to become the issue. Some people have tried to make him the issue both in Congress and outside."
"It had become clear to me that the prolonged leadership turmoil would do irreparable harm to the institution," Boehner said later at a press conference. "So this morning I informed my colleagues that I would resign."
He had been facing a rebellion from within the Republican party, with many lawmakers from the more conservative wing of the GOP pushing for him to go. The confrontation was partially based on a controversy related to women's healthcare provider Planned Parenthood (PP).
Hardliners and anti-abortion activists wanted a vote on public funding to PP stalled, a move opposed by Boehner as it could have triggered an unpopular government shutdown, tarnishing the Republican Party image.
The move deepened the divide within the party. Some, like Rep. Tim Huelskamps and Rep. Tom Massie, welcomed the resignation. "I think it was inevitable," Massie said. "This is a condition of his own making right here."
Others claimed it was a Pyrrhic victory for the hardliners. "The honour of John Boehner this morning stands in stark contrast to the idiocy of those members who seek to continually divide us," Rep. David Jolly told AP. "The shutdown caucus as I call them has a small victory."
The resignation ends an emotional two-day for Boehner, who was filmed weeping besides Pope Francis as the Argentinian addressed Congress on 24 September. The speaker, a Catholic, had been working to have a pontiff speak in Washington for two decades.