Extra drama was added to the Consumer Electronics Show in Las Vegas on 7 January when US marshals stormed a booth run by a Chinese company and grabbed hoverboards reported to be knock-offs. As a stunned crowd watched, the marshals packed up the one-wheeled hoverboard on display, along with promotional signs and fliers and carted them off.
The marshals had been called to the show by the makers of the Onewheel electric skateboard, who reported that Changzhou First International Trade Company had illegally copied designs for their product in violation of patent protections, according to a Bloomberg report. Some six members of the legal team for American startup company, Future Motion in Silicon Valley, accompanied the marshals as they served a court order on the Chinese booth and grabbed the goods.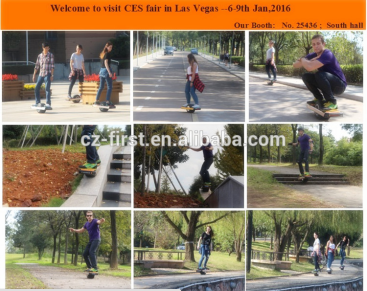 Up until that point, the Chinese product called the "Trotter" was proving to be a hit at the world's largest annual gadget festival. Instead of a typical hoverboard with wheels at each end of a board, the Trotter featured a single wheel in the middle — just like Onewheel's boards. One wheel did not have a booth to show off its product at CES 2016, but had warned the Chinese company a year ago to stop copying its product. Hoverboard creators are furious that cheap knockoffs are being made by companies freeloading on their expensive research and development. CES organisers do not police products at the show as long as exhibitors pay required fees for their booths.
Onewheel's designer, Kyle Doerksen, launched his company after his Kickstarter campaign raised $630,00 (£431,309) in 2014. The company holds a patent on both the board technology and its design. Last year, Future Motion learned of the Chinese product, which was being offered to retailers for $500, whereas Future Motion sells the Onewheel for three times that on its website.
"Knocking off an invention that is patented and carefully quality-controlled is a disservice and unsafe to consumers," Doerksen told CNET. "We will continue to vigorously defend our intellectual property rights around the world."
Doerksen said that he is not only concerned about losing individual sales, but also that poor-quality – even dangerous – knock-offs could destroy the hoverboard market for consumers who could lose trust in the product. "We hate to see someone poison the well," he said. There have already been reports of hoverboards bursting into flame.