The chief of the Drug Enforcement Administration is stepping down in mid-May, Attorney General Eric Holder announced on 21 April.
Michele Leonhart, who has headed the DEA since 2007, has been at the centre of a series of scandals involving DEA agents hosting "sex parties" with prostitutes overseas, the Washington Post reported.
"I want to express my appreciation to Michele, not only for her leadership of the DEA since 2007, but also for her 35 years of extraordinary service to the DEA, to the Department of Justice and to the American people," Holder said in a statement. He added "she was a trailblazer" as the first woman to serve as Special Agent in Charge.
"Michele has led this distinguished agency with honour, and I have been proud to call her my partner in the work of safeguarding our national security and protecting our citizens from crime, exploitation and abuse," Holder continued.
"Going forward, I have no doubt that the women and men of the DEA will continue to perform their duties with the utmost integrity, professionalism and skill – and I wish my good friend Michele all the best as she embarks on this next chapter in what is a remarkable life."
According to the Washington Post, Leonhart has come under criticism from Capitol Hill after an inspector general report revealed agents had hired prostitutes and had sex parties with women hired by Colombian drug cartels.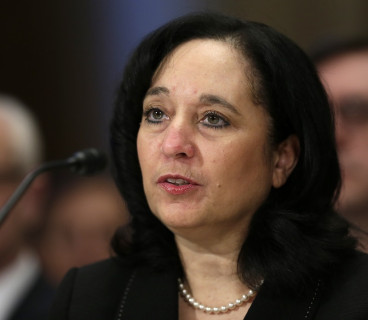 The White House also aired its frustrations with the DEA chief. White House press secretary Josh Earnest told reporters that the administration continued to "have concerns" about the incidents revealed by the inspector general report.
CNN reported the Obama administration was also frustrated with Leonhart's apparent refusal to adhere to relaxing federal rules on the enforcement on marijuana.
Members of the House Oversight Committee issued a statement welcoming Leonhart's resignation, CNN reported. "In light of the DOJ Inspector General's report and the testimony we heard before our committee, Ms Leonhart's resignation is the appropriate consequence," Republican chairman Jason Chaffetz and Democrat Elijah Cummings said.
"With the opportunity now for fresh leadership, we are hopeful that the DEA can restore itself to an agency of distinction and excellence," they added.