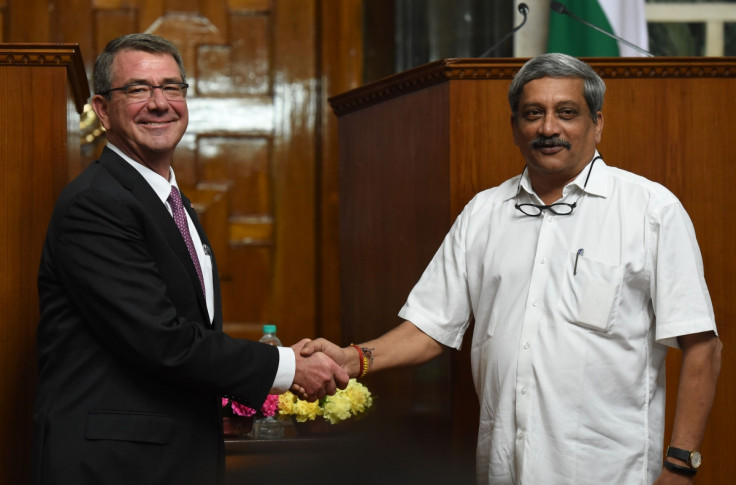 Giving a major boost to Indo-US military ties, New Delhi has granted Washington access to military bases "in principle". The two countries have also agreed to take a series of initiatives to partially check China's growing influence.
US Secretary of Defence Ash Carter was in India for a three-day visit meeting his Indian counterpart Manohar Parrikar. This was the third meeting between the two defence chiefs in the last 12 months.
The two sides signed a deal to share military logistics. The US has been pushing for the deal for nearly 10 years and did not find any favour with the earlier government, led by the Indian National Congress. However, things have gradually changed since Narendra Modi became the prime minister.
Both sides have made it clear that the agreement does not mean American troops can be deployed on Indian soil. The arrangement is only to allow the exchange of defence technologies and share logistics capabilities. The exact wordings of the text will be finalised later.
"It is a concept of logistics support and will be signed in months, if not weeks. It provides support for each other's platform where they need fuel and supplies. We have agreed on the main clauses, and drafts will soon be exchanged between us," said the Indian defence minister.
The US has been bolstering its military ties with Asian nations to counter Beijing's clout.
"Nobody is talking of stationing troops on Indian soil. As and when a situation arises, like an earthquake or a natural disaster, that is when it is directed at. It will be applicable on a case-to-case basis but under the agreement," said Carter during a news conference with Parrikar.
India has always shied away from militarily aligning itself with world powers so as to protect its own interests. Strategic autonomy has been the cornerstone of Delhi's foreign policy. However, China's aggressive push in territorial disputes has made India wary, prompting it to inch closer towards the US.