US election 2016: Carly Fiorina, Ben Carson enter a crowded GOP field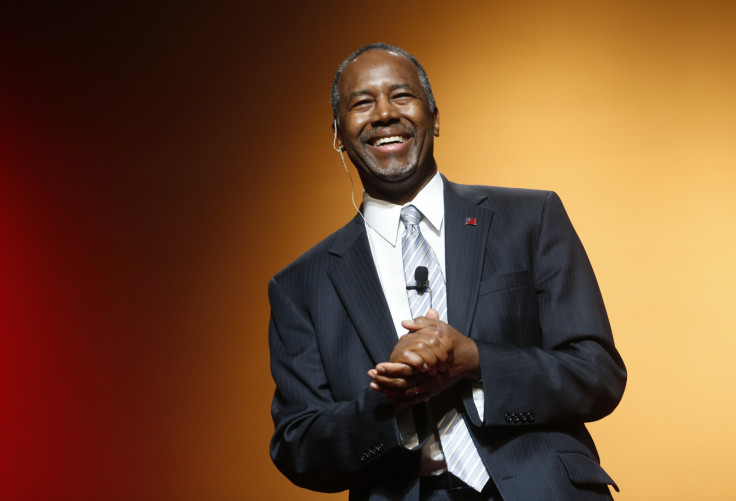 The Republican field for the 2016 presidential elections added two more to its ranks after Carly Fiorina and Ben Carson officially announced their bids on 4 May.
Fiorina, the former CEO of Hewlett-Packard, announced her candidacy early on Monday (3 May) during ABC's Good Morning America. "Yes, I'm running for president," she told host George Stephanopoulos. "I think I'm the best person for the job because I understand how the economy actually works. I understand the world, who's in it, how the world works."
Former Hewlett-Packard Co Chief Executive Carly Fiorina arrives for her interview with Yahoo Global News Anchor Katie Couric
REUTERS/Stephanie Keith
Her announcement is reminiscent, almost verbatim, to comments she made late March on Fox News Sunday. Fiorina told Fox, and reiterated on Monday, that she understands technology and the intricacies of DC's bureaucracies.
The 60-year-old former businesswoman is the second woman to announce her candidacy in the upcoming presidential election. Democratic powerhouse Hillary Clinton, who has been on the receiving end of Fiorina's scathing criticism, announced her bid on 12 April.
In a video announcement posted on her website, Fiorina is seen watching Clinton's candidacy announcement. She then turns around to the camera and says, "Our founders never intended us to have a professional political class. They believed that citizens and leaders needed to step forward. We know the only way to reimagine our government is to reimagine who is leading it. I'm Carly Fiorina and I'm running for president."
According to Politico, Fiorina later explained why she used Clinton in her announcement video. "She is the personification of the professional political class," she told reporters.
Fiorina will have a hard road ahead as she attempts to compete with candidates with greater donation support and more recognizable brands. "We won't raise the most money of anyone in the field for sure, but we'll raise sufficient money," she replied to a question on how she would compete with other candidates.
When asked what she would do if she became president, Fiorina said she would first call Israel Prime Minister Benjamin Netanyahu and the Iranian leadership, Politico reported.
Ben Carson joins the race
Retired neurosurgeon Ben Carson also announced his presidential bid on Monday after he unofficially announced his candidacy on 3 May. The Detroit native made his announcement in his home city along with his wife, Candy Carson.
The GOP candidate confirmed to Politico of his intention to run. "I'm willing to be a part of the equation, and, therefore, I'm announcing my candidacy for president of the United States."
Carson, like Fiorina, has made sure to remain in the spotlight in the last months prior to his announcement. According to Politico, he recently angered Vice President Joe Biden after claiming that being gay is "a choice." He said to CNN New Day co-host Chris Cuomo, "A lot of people who go into prison straight, and when they come out they're gay."
However, he has said that experience has taught him not to bring in controversy. "I don't wander off into those extraneous areas that can be exploited. I have learned that," he told reporters.
In his nearly five-minute announcement video, Carson said the country needs to heal to move forward. "If America is to survive the challenges of the modern world, we need to heal, we need to be inspired and we need to revive the exceptional spirit that built America."
© Copyright IBTimes 2023. All rights reserved.