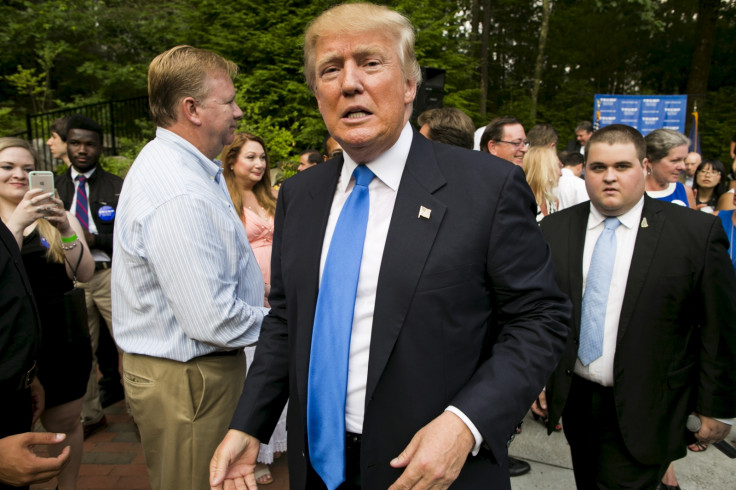 The weeks following Donald Trump's presidential candidacy announcement have been quite controversial for the real estate mogul-turned-politician. After being dropped by several companies for his comments against Mexican immigrants, Trump is now taking aim against his fellow Republicans.
The reality TV star decided to tweet against Jeb Bush after Bush denounced Trump's comments.
"He's doing — he's not a stupid guy, so I don't assume he thinks that every Mexican crossing the border is a rapist. He's doing this to inflame and incite and to draw attention, which seems to be the organizing principle of his campaign," Bush said about Trump. "To make these extraordinarily ugly kind of comments is not reflective of the Republican Party."
Trump responded by releasing a lengthy response, saying Bush was "out of touch with the American people" and tweeting against Bush's Mexican-born wife Columba. "#JebBush has to like the Mexican illegals because of his wife," the 69-year-old retweeted, before deleting it 24 hours later. The tweet was screenshot captured by The Wrap before being deleted.
According to MSNBC, Trump's campaign said he did not personally send the tweet from the account he personally tweets from and that someone else "mistakenly" did instead. "Mr Trump did not write this tweet," his spokeswoman Hope Hicks told reporters.
The GOP candidate, however, continued to tweet against Bush and his fellow party members. "I appreciated the GOP candidates who remain strong on border security. They know I am right. A nation without borders cannot survive," he wrote.
Despite backlash over his comments towards other candidates and immigrants, Trump has seen a steady rise in poll numbers. In a recent CNN/ORC poll, Trump saw a 3% jump from May to June. The rise saw Trump surpass his fellow Republican candidates except for Bush, putting him firmly in second place with 12%.