US election 2016: Republican John Kasich says he has 'had it' with rival GOP candidates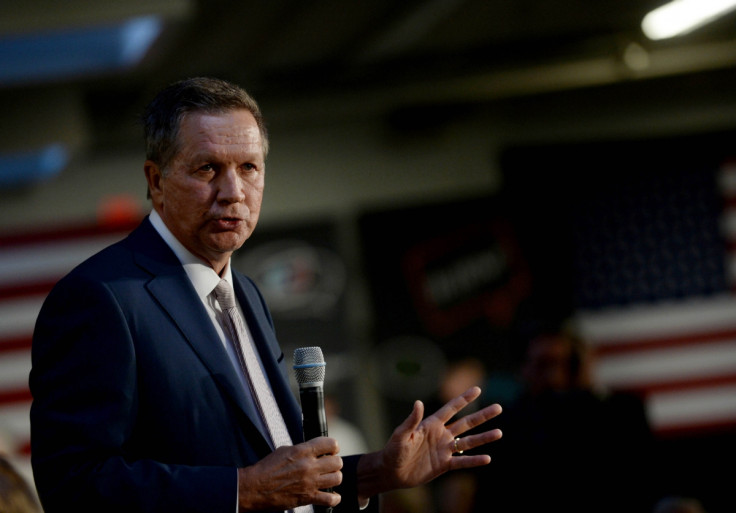 GOP presidential candidate John Kasich may not be known for criticising his Republican opponents, but he did not miss a beat on 27 October, letting the world know exactly what he feels about them. "Do you know how crazy this election is?" the Ohio governor said during a pre-debate rally in Ohio as he called out the "crazy" policies being promoted by other candidates. "I've about had it with these people."
According to CNN, Kasich did not have to call out any opponent by name because his comments made it very clear who he was referring to. Kasich said a plan to "abolish" Medicaid and Medicare, a hit at Ben Carson's alternative of a health savings account, is "crazy". He said: "Why don't we get a reality check on what the heck needs to be done in this country? Yeah, we can save Social Security, we shouldn't get rid of it, we can save Medicare and Medicaid."
Kasich also took a stab at Donald Trump's controversial views on how to solve illegal immigration by deporting all undocumented immigrants. "We got one guy that says we ought to take 10 or 11 million people and pick them up, where the — I don't know where, we're going to go in their homes, their apartments. We're going to pick them up and we're going to take them to the border and scream at them to get out of our country," he said. "Well that's just crazy. That is just crazy."
Former Florida governor Jeb Bush was not immune to Kasich's swipes. "One of the candidates said he's known as Veto Corleone. He's so proud of the fact that he vetoes everything, you [know] what vetoes are? Vetoes are a sign you can't get what you want," Kasich said.
CNN reported that Chris Schrimpf, a spokesman for Kasich, acknowledged that the candidate's new attitude was a new decision in strategy ahead of the upcoming Republican debate. Schrimpf told The Daily Beast, "Part of being President is speaking the truth to the American people. That's what Governor Kasich did today." The latest election poll by CBS/New York Times released on 27 October revealed Kasich scored only 4% support among GOP primary voters.
"I'm going to have call it like it is as long as I'm in this race," Kasich said. "I'm done with being polite and listening to this nonsense, and it's time we educate the American people about the consequences of very bad choices." Republicans will meet once again for their third presidential debate in Colorado on 28 October.
© Copyright IBTimes 2023. All rights reserved.