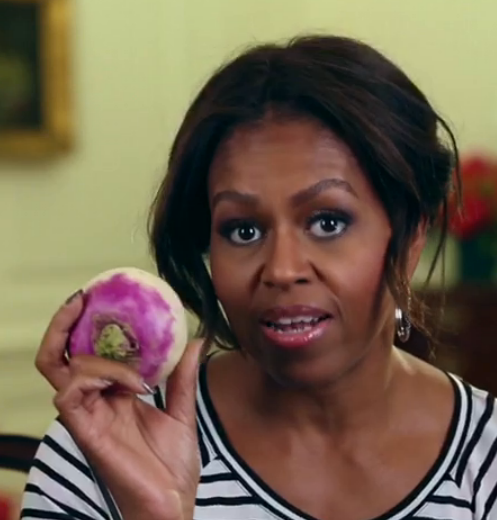 US First Lady, Michelle Obama, has gone the extra mile to promote her anti-obesity campaign by dancing with a turnip.
In a short video that fast went viral, Michelle holds a turnip and asks, "Turnip -- for what?" and then starts nodding her head to the hip hop tune of "Turn Down for What" by DJ Snake and Lil Jon.
The short video message has attracted over 8.4 million viewers on Vine as of today (15 October).
The idea was inspired from the #AskTheFirstLady segment when a Twitter message from Iman Crosson, who has impersonated US President Barack Obama asks Michelle, "how many calories do you burn every time you 'turn up'?!"
In response, Michelle posted the video message that was posted both on Vine and Twitter.
Michelle has worked hard to promote her "Let's Move!" program to inspire American children to get into healthier eating habits and be more active.
In February, Michelle danced with a giant broccoli, carrot and eggplant characters as part of her "Let's Move!" program's fourth anniversary tour.