House Democrats have launched a new strategy to push Republicans into passing gun control measures. Georgia Congressman John Lewis set the stage for a rare sit-in on the House floor with a number of fellow Democrats to force a vote on gun control.
"Sometimes you have to do something out of the ordinary, sometimes you have to make a way out of no way," said Lewis, who employed the tactics from his days as a civil rights activist. "There comes a time when you have to say something, when you have to make a little noise, when you have to move your feet. This is the time. Now is the time to get in the way. The time to act is now. We will be silent no more."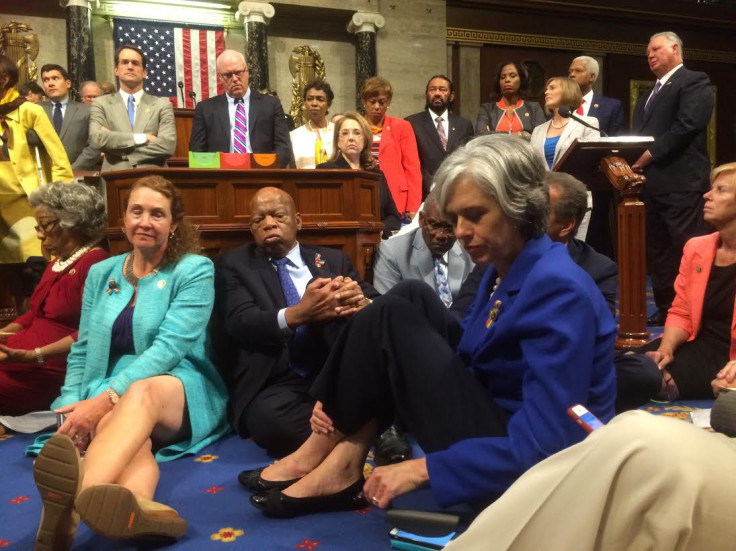 According to NBC News, Lewis and around 40 other House Democrats pledged "to occupy the floor of the House until there is action." The representatives have taken turns making remarks in favour of gun control measures as well as chanting: "I'm sick and tired of being sick and tired!" and "No bill, no break!" Democrats are also calling on voters to call Speaker Paul Ryan to urge him to call a vote. On Twitter, the hashtag #NoBillNoBreak is trending.
The sit-in, which has garnered the support of President Barack Obama and Democratic senators, is not being televised. In response to the sit-in, the presiding chair called a recess, which led to the shutting off of cameras broadcasting the action on C-SPAN and HouseLive.gov, Vox reported.
However, that has not stopped Democrats from live streaming the action on social media. California Congressman Scott Peters has been broadcasting from Periscope, whilst C-SPAN has also turned to the live-streaming app for its coverage.
NBC News noted that House Minority Leader Nancy Pelosi has also made sure to spread the word about what is going on inside the chamber by holding a hastily-arranged news conference. "Once again we are fighting an uphill fight to bring legislation to the floor," Pelosi said. "We truly believe that if there was a vote, we would win the vote."
The sit-in follows a dramatic week in both chambers of Congress. Following the shooting in Orlando, which left 49 dead and 53 others injured, Senate Democrats—led by Connecticut Senator Chris Murphy—held a 15-hour filibuster to demand action on gun control. On Monday (20 June), the Senate failed to pass four gun policy measures—two which were passed by Democrats and two others by Republicans.