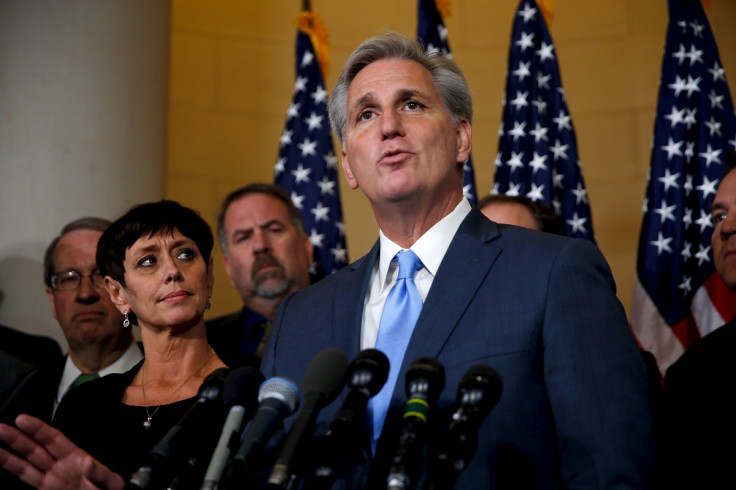 US House Majority Leader Kevin McCarthy on 8 October shockingly dropped out of the race for the speakership. McCarthy initially announced his bid to replace Speaker John Boehner just three days after Boehner announced his surprise resignation on 25 September.
The California Republican announced his decision during a meeting of House Republicans who were meeting to select their candidate for speaker ahead of the official floor vote on 29 October, The Washington Post reported.
In a press conference following the meeting, McCarthy said, "Over the last week it has become clear to me that our conference is deeply divided and needs to unite behind one leader. I have always put this conference ahead of myself. Therefore I am withdrawing my candidacy for speaker of the House. I look forward to working alongside my colleagues to help move our conference's agenda and our country forward."
McCarthy, who will remain as majority leader, added, "If we're going to be strong, we're going to be 100 percent united....Let's put the conference first." The 50-year-old was believed to be the favourite to win the race, but recent comments regarding the Benghazi committee and its affect on Democratic presidential front-runner Hillary Clinton may have hurt his chances.
"Well, that wasn't helpful," McCarthy admitted. "I could have said it much better." However, he said he "should not be a distraction" from the efforts by the committee to get down to the "truth" of the 2012 attacks in Libya.
According to The New York Times, McCarthy's decision to step down may also have been influenced by the knowledge that he could risk a humiliating defeat during the vote. On 7 October, a group of around 40 hard-line conservatives announced that they would throw their support behind Florida Congressman Daniel Webster, thus making it unclear if McCarthy would be able to garner enough votes to be elected.
McCarthy's announcement pushed the congressional race into complete chaos, as hard-line conservatives cheered the departure of a moderate leader and rank-and-file members were left concerned that the GOP was unmanageable in the lower chamber, The Washington Post noted. "It is total confusion—a banana republic," New York Representative Peter King said. King, a Boehner ally and friend of McCarthy, added, "Any plan, anything you anticipate, who knows what'll happen. People are crying, they don't have any idea how this will unfold, at all."
Boehner, who resigned in September after years of infighting among members of his conference, issued a statement on 8 October regarding his decision to either remain as speaker until a replacement is named or to appoint an interim speaker. "As I have said previously, I will serve as speaker until the House votes to elect a new speaker," he said.
The race for House speaker now has only two contenders left: Webster and Utah Representative Jason Chaffetz, who announced his bid for the speakership on 4 October. Chaffetz spoke to reporters following McCarthy's decision and said he was shocked.
"I really do believe it is time for a fresh start," he said. "That was the whole genesis of my campaign. But we need to have a lot more family discussions, because we need to find somebody that our whole body can united behind and do what we were elected to do."