The US military is looking to further beef up its presence in Iraq to drive out the Islamic State (Isis) and in Yemen to fight al-Qaeda in the Arabian Peninsula effectively. Without giving a specific number or an exact date of future deployments, US Army General Joseph Votel said on Thursday (14 July) that discussions are being held within military circles about sending more troops to the two countries to launch a more robust fight against the militants.
The Barack Obama administration recently announced that an additional 560 troops will be sent to Iraq to strengthen the Iraqi offensive to retake Mosul, Iraq's second biggest city that is now an IS (Daesh) stronghold. Votel, who oversees American military forces in the Middle East, said the request for more troops will be on top of the 560 already announced.
"As we continue on the mission, I think there will be some additional troops that we will ask to bring in," Votel told Reuters in Baghdad, adding that the request for extra forces will be placed depending on the stages of their fight in the two countries. The troops will be deployed keeping in mind the "specific objectives" they plan to achieve on the ground at that particular point. The general also said they planned to stay on even after militants have been driven out to ensure the extremists do not return.
Speaking about his recent meeting with top Iraqi officials, including Prime Minister Haider al-Abadi, on Wednesday (13 July), Votel said he felt "more encouraged" following the meeting. "While there is still a lot of work to do – a lot of work to do – I left more encouraged," he said, emphasising the importance that US-backed military operations "pay off on the political side".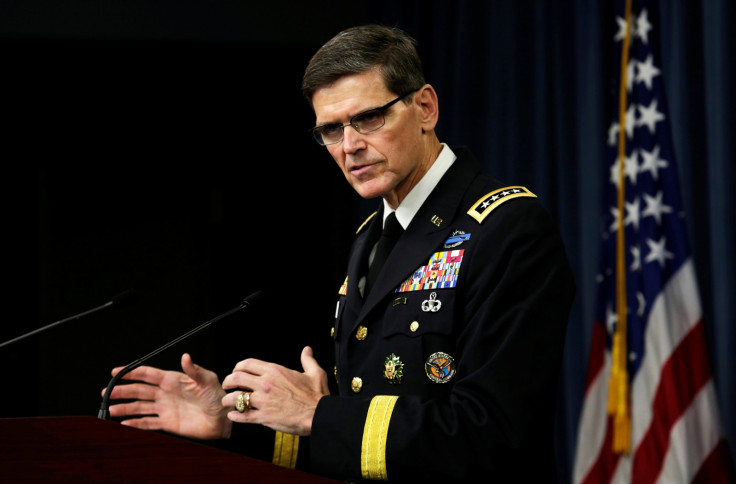 The US military is currently aiming to drive out the IS from Mosul in Iraq and from the Syrian city of al-Raqqa. Votel said that once their objectives are met in the areas, it will be imperative that they ensure the militants do not shift base and begin operating from other locations outside those cities. "What we don't want to do is declare victory and depart after that. I think we want to see this through," he told the news agency, noting they want to ensure they achieve "lasting defeat".
"If there's capabilities we don't need, we will remove them. Likewise if there's capabilities we do need that we don't have, we'll ask for them," Votel said, hinting at a long battle ahead in Iraq.
He added there was a need to gain greater visibility in Yemen by increasing their troops. Only a small number of American forces are reportedly stationed in Yemen after a majority of the soldiers were called back in 2015 following conflicts.
"If we can continue to better understand what al Qaeda's doing, regain the situational awareness that we lost when we all had to depart Yemen here some time ago, that's what I'm interested in doing," Votel told the news agency.