In a move echoing the apocolyptic situation played out in the Terminator series of films, the US government is handing over control of its nuclear stockpile to computers.
Cray, the world's leading supercomputer manufacturer, has been awarded a $174 million (£102m) contract to develop machines to assist in managing the United States' stockpile of nuclear weapons.
As part of the deal, Cray will provide the US National Nuclear Security Administration (NNSA) with a next generation Cray XC supercomputer - one of the most powerful computers to ever be produced.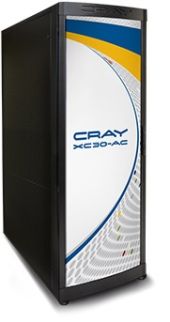 The Cray XC will operate within the Trinity system, a programme run by the NNSA at the Los Alamos National Laboratory and Sandia National Laboratories, both in New Mexico.
"Both Los Alamos and Sandia have a long history with Cray, going back to the beginning of the supercomputer era," said Gary Grider, a division leader at Los Alamos.
"That history continues with the Trinity platform that will provide next generation supercomputing in support of the US nuclear security enterprise."
In the Terminator films the US government develops a computer system called Skynet which is designed to have command over all computerised military hardware and systems, including America's entire nuclear weapons arsenal.
Currently the NNSA use an older supercomputer developed by Cray known as Cielo. The new XC machine is expected to deliver more than eight times greater applications performance than Cielo.
"It is a real honour that one of the largest contracts in our company's history has come from one of our most important customers," said Peter Ungaro, president and CEO of Cray.
"The NNSA has consistently deployed the world's most advanced supercomputing systems to support their critical mission of ensuring the health of our nation's nuclear stockpile."
The Cray system that will be provided for the Trinity platform will include a "multi-petaflop supercomputer" with a storage solution that includes 82 petabytes of capacity with1.7 terabytes per-second of sustained performance.